Over the past two years, restaurants have been forced to innovate creatively and strategically in ways that will permanently change how Americans eat out. To keep pace with these changes,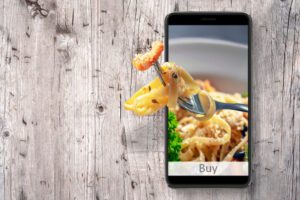 successful chains have relied on restaurant tech to help run their operations with agility and efficiency: particularly automation tools that manage contactless ordering and pickup, organize staff and customers, and analyze business operations with clear data. QSRs are changing their business models to meet diners where they are and to strengthen a direct relationship with customers, rather than relying on third parties to manage and mediate. With that, expectations for POS systems are changing: restaurants need flexibility and freedom to choose hardware and software combinations that fit their unique needs.
Read on to learn about the up-and-coming trends that QSRs should know about, and the customized automation solutions that post-Covid restaurants are embracing.
Ghost Kitchens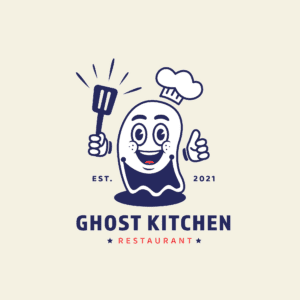 Ghost kitchens are facilities that exclusively prepare take-out, delivery, or drive-thru meals without dining or counter service for customers. Ghost kitchens can turn out 60 orders per hour with one employee, compared to 15-20 delivery orders per hour for a sit-down restaurant. They can also be a centralized hub preparing meals for multiple locations of one chain, or preparing meals for several different restaurants in one space. Ghost kitchens enable restaurants to fulfill more orders with less overhead and lower operational costs.
A 2022 study by Hospitality Technology says that 34% of restaurant survey respondents are planning to adopt ghost kitchens in the coming years, and half of those respondents will be adopting them for the first time. Ghost kitchens need extensive organizational tools to track orders, which may be coming from different platforms or even from different restaurants. Kitchen display systems (KDS) can help to automate operations by consolidating and clearly organizing orders from any ordering system—whether that's a website or app, or the drive-thru.
Curbside Pickup
Labor may be in expensive and short supply, but diners aren't necessarily returning to sit-down dining full force. Other alternative dining trends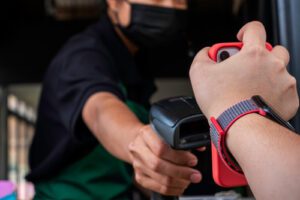 that gained popularity during the pandemic—including contactless options like curbside pickup—are here to stay. In a recent Bluedot survey, 44% of diners said that curbside pickup is one of the most improved aspects of fast-food dining post-pandemic. 74% of restaurants in the Hospitality Tech survey also emphasized that they'll be adopting or have already adopted curbside pickup technology.
This points to an important trend unfolding within the QSR community: restaurants are investing more in customized POS systems and abandoning the more rigid status quo in large numbers. One-quarter of restaurants reported that they plan to change their POS restaurant tech suppliers in 2022. POS systems that meet customers where they are, are agile enough to manage orders coming in-person and online, and that can keep the kitchen organized are quickly becoming a necessity, not a luxury.
Curbside pickup is convenient from the ordering aspect, but also fulfills the desire for contactless payment options that customers increasingly prefer. POS systems must include increasingly sophisticated, far-reaching, and cloud-based mechanisms for managing payments from a variety of platforms, and for keeping track of inventory to ensure a smooth ordering process.
Drive-Thru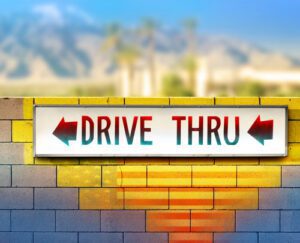 Mid-pandemic, drive-thru use accounted for 42% of all restaurant visits. Many restaurant chains are adding dedicated lanes and windows for mobile and digital order pickups, especially as 36% of restaurant patrons say that a dedicated mobile order drive-thru lane will keep them coming back to a specific location.
Chipotle debuted its 250th "Chipotlane" last summer and expects 70 percent of its 200 or so openings this year to include the feature. These units drive 14 percent higher overall digital sales mix and, critically, skew toward more profitable carryout orders. Fast casual spots like Chipotle and Pizza Hut want to take advantage of the suddenly connected digital experience by adding pickup windows into current and future builds. In Pizza Hut's case, they actually had hundreds of "Hut Lane" windows attached to restaurants before COVID. But the digital landscape we lived in at the time was less connected, meaning few customers—or even franchisees for that matter—saw it as a viable or frictionless option. Thanks to the pandemic and the contactless systems that have been born out of  demand, Pizza Hut was able to flip "Hut Lanes" on at 1,500 locations essentially overnight. In some ways, the pandemic took care of the marketing.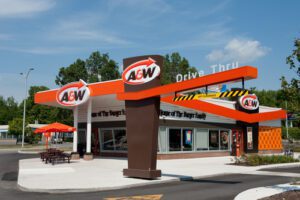 Again, drive-thrus offer major opportunity to meet modern customer demand and exceed current business capabilities, but only with the right mobile POS, display, and automation tools. The Hospitality Tech survey highlighted that the top challenge for restaurants this year is integrating tech changes with their legacy systems. Investment in IT is currently less than 2% of revenue for over 40% of the restaurants surveyed. Trying to pivot with limited legacy systems is holding many businesses back. However, there is clear opportunity for these businesses to change their mode of thinking: investing in tech is not a static cost, but a future revenue generator.
---
Make Your Restaurant Smarter
---
Flexible, Customized Restaurant Tech Solutions via Mainstreet Services
At Mainstreet Services, we understand the challenge of maximizing your customer satisfaction and revenue with the tools that you have in your kit. Our entire business model is centered around services and helping you accomplish your goals, not just selling hardware. For that reason, we're proud to partner with HP, because they lead the pack in providing you with flexibility in the programs you can choose. HP's retail solutions are adaptable and reliable, including POS systems that can meet your many restaurant tech needs.
From procurement to integration, rollout, and repair, Mainstreet Services is a services-based business that focuses on the needs of our clients. We help restaurants discover the right combination of technology to accomplish their goals. Contact us today to speak with one of our experts about managing and optimizing your restaurant operations systems.