Despite today's business challenges, restaurants are figuring out new ways to use technology and smart strategies to boost drive thru performance, streamline their operations, increase labor productivity, and create cost savings and efficiency.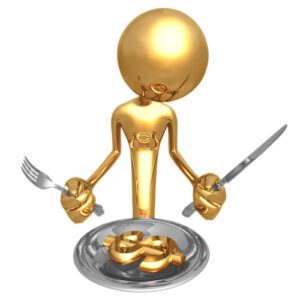 In this article—the first in a three-part series—we'll explore how operators are using technology to continuously improve and innovate their drive thru and mobile order pickups.
We'll start by taking a look at some of startling numbers and trends driving the need for change and innovation. Then we'll take a look at the some of the growth and opportunity now available in drive thru and curbside, where some of the industry's leading players are making smart moves and improvements to adapt and thrive in a challenging marketplace.
What's Motivating the Need for Innovation
Labor Crisis
53% of all restaurant workers report they're considering leaving their job, and 76% of those said they would leave due to low wages and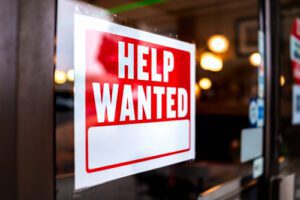 tips. That reason was more than 20 percentage points ahead of COVID health risks as a motivating factor.
78% of restaurant workers say that having a full, stable and livable wage would make them consider staying on the job, but restaurant margins are tight, and the prospect of raising wages and offering more incentives is grim at a time when the industry is still hurting.
Lost Revenue
65% of restaurant operators said earlier this year that their total sales volume was down $290 billion and down 1.7 million jobs compared to expected pre-pandemic levels.
Increased Labor Costs
The U.S. Department of Labor reports a 9% increase in the average wage of restaurant workers in 2021 alone, growing to a projected $17.19 per hour as of July 2021.
Finding Hope in the Drive Thru and Mobile Pickups
Despite these discouraging numbers, there's hope and opportunity in the drive thru and curbside, where restaurant business is booming.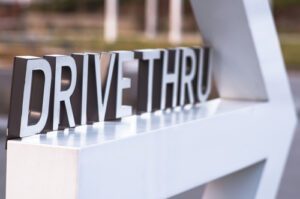 There is a 36% year-over-year increase in drive thru visits today, with 70% of consumers visiting drive thru at the same frequency or more often than they did one year earlier, when COVID-19 was first raging.
60% of surveyed consumers made curbside pickups at fast-casual restaurants over the last month.
As a result of these powerful trends, restaurants are making drive thru service and curbside pickups major focal points as they look to capitalize on changing consumer behavior and get a competitive edge in the industry's eventual recovery.
Here are three major ways they're doing it.
Adding and Expanding Drive-Thru Lanes
For restaurants that didn't have physical drive thru lanes before the pandemic, curbside pickups became absolutely essential. But now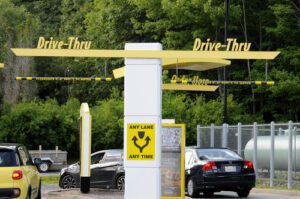 many brands and restaurants such as Chipotle, Shake Shack, Starbucks and Noodles & Company are quickly working to add drive thru lanes where possible.
This helps them capture some of that huge increase in consumer drive thru business that we've seen over the past 18 months. It's also a perfect opportunity to expand and leverage their current mobile apps, curbside service, and their digital order management and payment tools into the drive thru and mobile pickup space.
Adding Dedicated Lanes and Windows for Mobile Orders
Many restaurant chains are adding dedicated lanes and windows for mobile and digital order pickups, especially as 36% of restaurant patrons say that a dedicated mobile order drive thru lane will keep them coming back to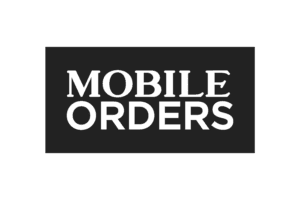 a specific location.
In the case of Taco Bell, its new "Go Mobile" locations now offer dual drive-thru lanes, including one dedicated to priority pickups for customers who order through the Taco Bell mobile app.
Taco Bell's smart kitchen technology synchronizes kitchen operations with these digital orders and pickups via the Taco Bell mobile app, allowing orders to be received, prepared and picked up more efficiently and cost-effectively. There is also a team of bellhops that can take orders in the drive thru and manage curbside pickup orders using digital tablets.
Pizza Hut has unveiled its own solution with "The Hut Lane," a dedicated pickup window at more than 1,500 locations. Guests can tap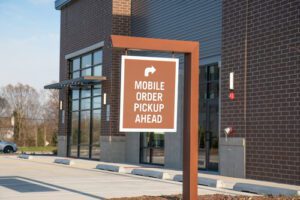 meals, place orders, and make payments through Pizza Hut's mobile app or website, pulling up to the dedicated window when it's time to retrieve their order.
By using their own mobile apps and digital services, restaurant operators can get food to customers faster and with less labor, and they can use mobile app marketing and promotional offers to encourage customers to use their apps, drive thru and curbside pickup rather than third-party delivery. This is an increasingly important move to combat costly fees and lack of control over food quality and the chain of custody when consumers use third-party delivery services such as DoorDash.
Using Digital Menu Boards in the Drive-Thru
Another big drive thru trend is the switch to digital menu boards, which restaurant chains such as McDonald's and Burger King are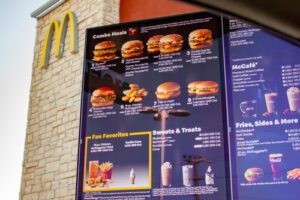 adopting in big numbers.
Digital menu boards display menu items and prices, and they provide on-screen confirmation of order items and accuracy. They can also use artificial intelligence and machine learning to track the most popular purchases by drive thru customers and display and prioritize menu items accordingly.
This powerful combination of features speeds up drive thru service, cutting service time by 30 seconds per customer at McDonald's. Digital menu boards can also be integrated with loyalty programs, mobile apps and contactless payment solutions to allow guests to order, pick up orders, and pay digitally in fewer steps in the drive thru, which further streamlines service.
As a result, 41% of consumers now rank a digital menu board to confirm their order as one of the top reasons they would revisit a drive thru.
Exploring Drive Thru and Mobile Pickup Innovations for Your Restaurants
Are you looking for ways to grow your restaurant business, increase efficiency, and reduce costs?
At Mainstreet, we've been working with forward-thinking restaurant operators to capitalize on the latest trends and developments in the industry, and we'd be happy to talk about proven strategies and solutions that will help you adapt and thrive during this challenging but exciting time.
In the next installments of this article series, we'll be exploring more ways that restaurants are using smart technology strategies and innovations to achieve these goals, but if you're looking to get started right away, connect with us right now to start a conversation.