In part two of our three-article series on restaurants using technology to tackle current business challenges, we take a look at ghost kitchens.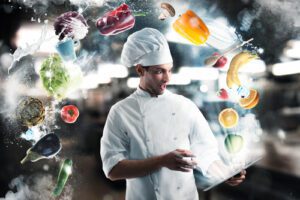 A ghost kitchen is a restaurant or facility dedicated to preparing delivery-only, takeout, or drive-thru meals, with no indoor dining or counter service for customers. The concept can take on a number of different forms and names, including a virtual kitchen, cloud kitchen, or dark kitchen, but the fundamental idea is simple.
By preparing food without the need for front-of-house staff, seating areas, and traditional service infrastructure, restaurants can prepare meals faster and fulfill more orders with less overhead and lower operational cost. They can also expand more easily into urban areas where a smaller footprint can help them get closer to new target markets and get their products to consumers faster.
Technology is an essential ingredient for highly effective ghost kitchens to optimize labor as well as order acquisition, production and fulfillment.
The Advantages of Ghost Kitchens
According to Peter Schatzberg, founder of Sweetheart Kitchen, a multi-brand and delivery-only virtual kitchen, ghost kitchens can deliver up to 60 orders per hour with just one employee,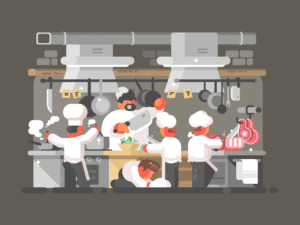 compared to only 15 to 20 delivery orders per hour in a typical restaurant.
Since they don't need space for seating and dining, and there's no need for typical service staff or paper menus, overhead and operational costs are lower.
Restaurants using ghost kitchens can also experiment with new menus and brand concepts – even new markets – without the risks, challenges, or space and labor requirements of traditional approaches.
A Timely Concept for Today's Restaurant Challenges
Ghost kitchens predate the COVID-19 pandemic by at least five years. Once the pandemic hit and restaurants struggled with shutdowns, counter-virus restrictions, and the explosion of delivery, drive-thru, and carryout service, ghost kitchens grew rapidly.
Even before the pandemic, global restaurant delivery sales more than doubled from 2014 to 2019. But now, 53% of consumers say that delivery and takeout are essential to the way they live,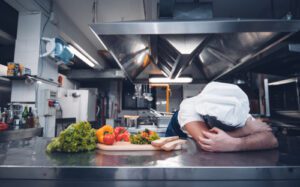 and in 2020 alone, 1.2 billion people worldwide used online food delivery.
Along the way, ghost kitchens have played a huge role in fulfilling that growing demand, with market research firm Euromonitor recently projecting that ghost kitchens could be a $1 trillion global opportunity by 2030.
Euromonitor further predicts that cheaper, faster, and more reliable delivery could help ghost kitchens capture 50% of drive-thru service, 50% of carryout service, and 25% of dine-in food service in the coming years.
But ghost kitchens aren't just about growing and capturing more business. They're also a way to deal with a prolonged and potentially permanent labor shortage.
In August 2021, nearly 900,000 people quit their jobs in restaurants, bars, and hotels. That was up 21% from the previous month, and it's part of an ongoing problem that researchers have seen coming for months. In fact, UC Berkeley Food Labor Research Center found that 53% of all restaurant workers were considering leaving their jobs, and now we're seeing that unfold.
76% of restaurant workers who said they were planning to resign cited low wages and tips as their reason for their leaving, and with the average wage of restaurant workers growing to a projected $17.19 per hour as of July 2021, the whole industry is looking for ways to operate more efficiency and manage costs with less labor supply.
What the Major Chains Are Doing
Major players such as Wendy's, Brinker, Bloomin' Brands and Applebee's have been responding to today's hardship and opportunity by creating ghost kitchens.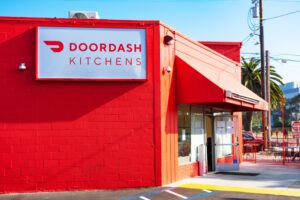 Wendy's is partnering with REEF, a ghost kitchen and technology company, to open 700 new delivery-only kitchens in the U.S., Canada, and the UK. Wendy's expects each of these locations to generate $500,000 to $1 million per year in revenue, at a healthy restaurant profit margin of about 6% in the U.S. and 5.5% in the UK.
Brinker International has launched a delivery-only brand called It's Just Wings. It operates out of its Chili's and Maggiano's restaurants, using those facilities and a partnership with DoorDash to sell chicken wings, curly fries, and fried Oreo cookies without needing additional space, staff, or equipment.
Outback Steakhouse's parent company Bloomin' Brands has done the same with Tender Shack, another delivery-only chicken brand, as has Applebee's with its Cosmic Wings online brand.
Technology is Essential
Ghost kitchens rely on online ordering and mobile apps to provide data and information operators can use to make smarter business decisions and quickly build out improved delivery, pickup,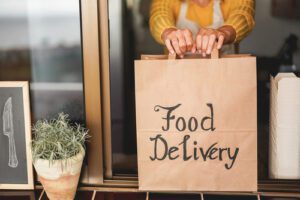 and drive-thru services.
Restaurants can mine their digital ordering and kitchen systems to learn more about what options consumers prefer, how each location is performing, which service channels are trending, and which menu items are selling and should be prioritized.
Using this data, they can quickly adjust their operations, digital marketing, and service strategies. Moreover, they can use these insights to launch entirely new delivery-only brands or restaurant locations.
Exploring Ghost Kitchens for Your Restaurants
By investing in ghost kitchens, restaurants can slash costs while providing quality food and beverage in less time and with improved convenience for customers—all at better profitability.
To learn more about ghost kitchens, how they work, and the technologies that can help you grow and adapt your business, contact our team at Mainstreet to learn more.