This is the final installment of our three-part article series on tackling today's biggest restaurant business challenges with innovative technologies, we look at how operators are combating restaurant labor shortages and rising labor costs.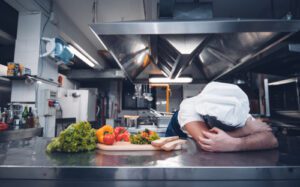 The labor crisis is real. Current staffing levels are down from pre-pandemic levels for  84% of restaurant operators  and more than half of full-service operators and 42% of limited-service operators say they're unable to open at the maximum-allowed capacity and grow back their business.
They don't have enough employees to staff their restaurants, and when they can attract workers, it's taking more money to hire them. Hourly wages for limited-service restaurant workers rose by 10% in just the second quarter of 2021 alone, marking the highest quarterly jump in years. And some restaurants such as Chipotle and McDonald's are finding it necessary to offer tuition reimbursement or signing bonuses of up to $500 to attract new employees, adding to growing labor costs.
These trends show no sign of easing.
It's time for restaurants to find new ways to operate with a smaller staff level and reduced cost. Here are some innovative ways that industry leaders are doing just that.
Express Ordering, Drive Thru and Pickup Technologies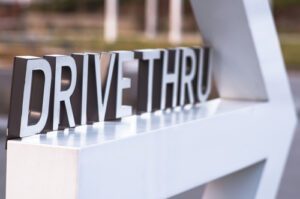 One of the easiest ways to counter today's post-COVID restaurant labor shortages is to use technology to capitalize on other, more positive trends.
A recent Bluedot study found that drive-thru visits have increased 36% since the early days of the pandemic, with 9 out of 10 survey respondents saying they had visited a drive-thru in the past month. And 35% of respondents said they are most likely to spend more money in the drive thru as opposed to the counter (20%).
The same study found that 57% of respondents used curbside pickups at fast-casual restaurants over the past month, showing that curbside is here to stay.
Given these trends, restaurant brands such as Chipotle, Noodles & Company, Shake Shack, and Starbucks have been rapidly adding or expanding their curbside pickup service, investing more in mobile ordering, and adding dedicated curbside pickup windows.
Traditional dine-in and drive-thru players such as Taco Bell have been implementing dual drive-thrus with one lane dedicated to traditional drive-thru ordering and pickups. The other lane is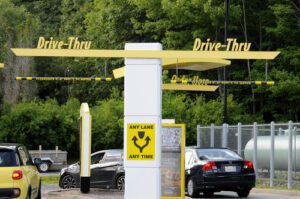 for mobile app orders where customers can order ahead and then skip ordering and payment at the drive-thru while they pick up their orders faster.
Self-Service Kiosks
At quick-service restaurants such as Wendy's, patrons can use a digital kiosk to place and pay for their order, sending it to the kitchen right away rather than having to wait on line. They get their food faster while the restaurant doesn't need as much staff to take orders at the front counter, freeing up the workforce to focus more on food prep, drive thru or other services.
A further advantage of digital kiosks is that they can also help upsell higher-margin menu items. Wendy's has seen this first-hand with higher average checks from its digital kiosk orders. And one kiosk developer has found that optimizing self-service kiosks for upsells can boost restaurant check sizes from 15 to 30 percent.
Back-of-House Automation
Many restaurants such as Taco Bell are also looking to improve labor efficiency and deal with restaurant labor shortages by investing in back-of-house automation technologies including smart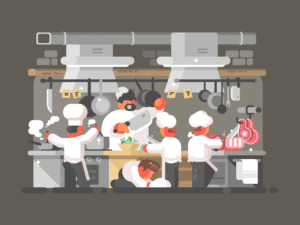 kitchens with kitchen display systems (KDS).
These systems allow all orders to be pushed to the restaurant's point of sale and to the kitchen via KDS whether the order is coming in from a mobile app, a website, the drive thru, a self-service kiosk, or the front counter.
Operators are also using geofencing to streamline mobile orders with their smart kitchen systems. Geofencing tracks an incoming customer's location so the restaurant knows how close they are for their pickup, and staff can time food prep to ensure the order is on time and that food is fresh upon the customer's arrival.
Food Lockers and Pickup Cubbies
Food lockers further help streamline order pick ups and reduce labor dependency. Little Caesar's now has Pizza Portals where customers can quickly pick up an online or mobile order without having to go to the counter.
Food locker systems can create major labor savings while avoiding crowds at counters and ensuring the right orders go to the right customer. In fact, in the case of food service operations at Santikos Entertainment, which operates a chain of high-end movie theaters, food lockers now allow the company to process 6,000 orders per day across 10 locations, and each location is saving 12 hours per day in labor while freeing up two workers per site to be assigned to other guest services.
Taking Inspiration and Exploring Labor-Saving Technology at Your Restaurants
Many restaurant operators assume that labor-saving technology is only something for the industry's biggest players with the biggest budgets. But restaurant technologies are far more affordable than many operators realize, and it's not just the big names that are leveraging technology innovation and automation to help with restaurant labor shortages.
At Mainstreet, we help restaurants of all sizes reinvent and optimize their operations with smart and phased investments in technology. Our team works with everyone from large national chains to local operators to identify, deploy and integrate labor-saving technologies that are the right fit for their business needs and budget.
Technology doesn't just help address temporary labor issues. It's a long-term investment and strategy that can turn automation and self-service into major gains in efficiency, service quality, and customer convenience over the long haul.
To learn more about the latest labor-saving technology innovations and explore the possibilities for your business, contact us now to schedule a free consultation.