What a year 2021 was for retail!
We saw store openings outpace store closures for the first time in several years. Total US retail growth was 18.2% over the previous year. Amazing performance made even better considering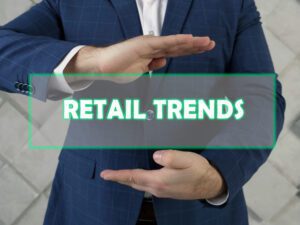 that we've been in a pandemic for 2 years.
Retail truly has clearly demonstrated its resiliency and we can expect it will continue to drive strong results as chains continue to embrace retail strategies and technologies that will continue to support growth and attract shoppers.
These are some of the 2022 retail trends that we think you'll see gain more widespread adoption to make for another exciting year in our industry.
Frictionless Shopping Improvements
Many retailers are working to create and improve frictionless shopping. That's true especially in their stores where 73% of shoppers want to get in and get out quickly with minimal friction and contact. In fact, a recent survey found that 87% of U.S. shoppers prefer touchless or robust self-checkout options, and 67% now use self-checkout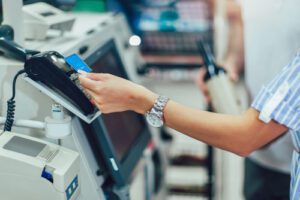 (compared to one-third before the pandemic).
Amazon's cashierless Amazon Go stores are one example of how retailers are creating a more frictionless shopping experience in their stores. Kroger is also experimenting with frictionless grocery shopping by equipping grocery carts with a built-in scale, camera and touchscreen. Consumers scan and bag as they shop with their cart, then pay from the cart and exit the store through the self-checkout area.
Over 20,000 retail stores are incorporating digital wallets, where customers can use their mobile devices, mobile apps, and near-field communication (NFC) to complete a purchase easily and quickly, without having to handle or exchange cash or payment cards. This is a great alternative in terms of contactless safety and convenience, but it also offers many benefits to retailers as well.
For example, digital wallets can be used along with retailer mobile apps and loyalty programs to securely store customers' payment information and track their purchases. This allows retailers to use the resulting data to create personalized offers through their mobile app, better manage inventory, and gain a better understanding of consumer buying behavior.
Retail Brands Join Forces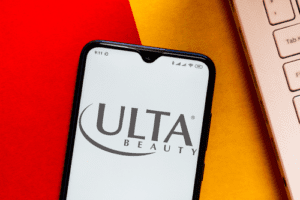 Another 2022 retail strategy will be brand partnerships, and there are numerous examples already unfolding.
Store Within a Store. Ulta has partnered with Target to open Ulta Beauty Stores within Target stores. At the end of 2021 there were 100 such Ulta store-in-store and the ultimate plan is to expand the concept to 800 locations inside Target in the coming years. Ulta is also ramping up same-day delivery with its Beauty to Go promise in partnership with DoorDash, where Ulta will provide delivery of beauty products within two hours or less.
Sephora will open mini shops inside 850 Kohl's stores by 2023 – an initiative that will help Kohl's triple its sales in beauty during the coming years. Kohl's employees, trained by Sephora, will staff the locations that will be positioned near the front of the store and will occasionally be accessible via separate entrances.
Toys "R" Us, once thought to have disappeared from the retail landscape, has entered a partnership with Macy's to roll out branded in-store shops in over 400 Macy's stores starting in 2022.
Starbucks and Amazon are teaming up to open cashierless coffee shops in Manhattan. The new concept combines Starbucks Pickup with Amazon Go, using the order ahead feature of the Starbucks app with Amazon Go's Just Walk Out technology to create a digital checkout experience. Additional stores are expected in 2022.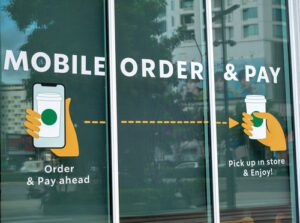 Retail partnerships like these allow brands to join forces to leverage their respective brick-and-motor and digital presences, add new categories and customers, experiment with new store-within-store concepts, and more quickly ramp up technology and customer convenience while sharing resources.
Exploring New Store Concepts
As the number of closures declined in 2021 and were outpaced by new store openings, retailers focused on making their stores really count including rethinking store formats and switching locations.
Even dollar stores are experimenting with these retail strategies. After a successful debut, Dollar General recently announced an expansion of its PopShelf concept, a higher-end discount store with a treasure hunt appeal and higher price points, to 1,000 locations over the next four years. Dollar General is aggressively expanding its footprint with 1,110 new stores planned for the 2022 fiscal year, including its first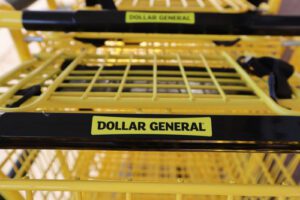 stores outside the U.S. Dollar General is also testing an in-store Popshelf concept with 14 such shops already located within some of its larger format DG stores – more are planned in the near future.
Macy's and its more upscale business, Bloomingdale's, are both trying out smaller format stores in strip centers that are more likely to have a Kohl's or Target. And Shoe Carnival, after a concerted effort to close down underperforming stores, is now opening and remodeling stores, in an effort to upend the discount footwear market.
Many other retailers are experimenting with the store-within-a-store idea, including grocer Hy-Vee, which is creating a range of in-store destination areas that will feature DSW shoes, Joe Fresh clothing, "W" nail bars, Pair Eyewear kiosks, and Johnson fitness equipment showrooms.
CVS is shifting strategies in response to "changes in population, consumer buying patterns and future health needs" with the closure of 900 stores  to help ensure it has "the right kind of stores in the right locations for consumers and the business." It is also part of a plan to create three distinct store formats including sites dedicated to offering primary care health services as well as enhanced versions of its HealthHUB locations with products and services designed for everyday health and wellness needs.
Retail Trend – Improve Fulfillment & Inventory Management
Succeeding in 2022 and beyond isn't just about changing strategies, opening or closing stores, or creating new store concepts. It's also about perfecting the shopping and service channels that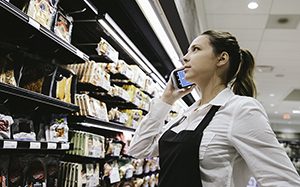 have become so dominant during the pandemic.
Zebra's recent Global Shopper Study found that only 38% of shoppers completely trust retailers to fulfill orders as promised. This points to a need for continuous improvement in e-commerce, curbside and delivery — especially in supply chain and inventory management.
As Nikki Baird, VP of retail innovation at Aptos has put it, "Retailers are at the point where they know they can't fake it anymore. They have to get the basics right – and this includes real-time inventory visibility. If retailers can't provide real-time inventory visibility, they've already lost. There's no way retailers can keep up with the speed of consumers without it."
As a result, Baird expects retailers to make major investments in overhauling and replacing their legacy IT and inventory management systems in 2022.
Expand and Upgrade Retail Technology
The pandemic certainly did accelerate technology investments as retailers adapted their businesses to find a way to meet consumer/shopper demand beyond the traditional store.
If we've learned nothing else from the pandemic, it's that retailers can't afford to be technological laggards. Their retail strategies need to be forward-thinking and they must be willing to innovate and experiment, and use the right technologies to make it happen.
Fortunately, plotting the right retail technology strategies and finding the right solutions doesn't have to be overwhelming, overly complicated, or outrageously expensive. Whether you're a regional retailer or one of the world's leading retail brands, there are smart and measured steps you can take in 2022 to capitalize on what's happening and set the stage for a prosperous future.
To learn more about the possibilities, case studies, and solutions we recommend, connect with us at Mainstreet, and let's work to build your retail future!