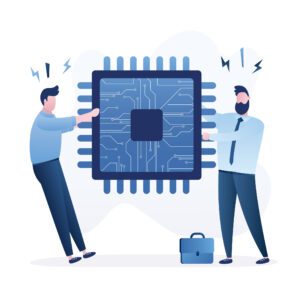 Not only are retailers and restaurant operators dealing with supply chain issues, labor shortages and rising labor costs, they're also experiencing technology shortages resulting from major delays in getting the technology devices needed to run their business, manage inventory and provide great customer service. And it's not limited to a few manufacturers, most every OEM of instore technologies is experiencing delivery delays of several months and many are forced to increase their prices too.
That's why your business should have a backup plan to deal with current technology shortages and delays, and a key part of your plan should be to figure out how to get by and still work productively and efficiently with devices you already have. That means repairing, refurbishing, and renewing your technologies in the short term.
Mainstreet has the right solution for you. We can help you keep your business running smoothly by repairing, refurbishing and renewing the devices you're already using and get more from the technology investment you've already made. You may even help your business achieve its sustainability goals by extending the useful life of the hardware devices you have.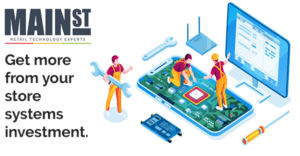 Let's take a look at what you can expect from technology delays / shortages and solutions available.
The Latest on Technology Shortages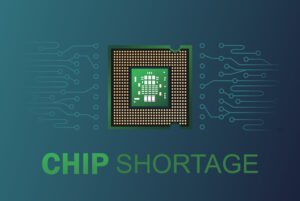 Technology shortages are impacting manufacturers across the retail technology spectrum – from POS to back-office, scanning, mobility, print and self-service – are having a hard time keeping up with production demand, not just due to the chip shortage but also due to labor shortages and skyrocketing orders.
Shipping ports are backed up with inbound shipments, technology production lines are being pushed to their limits, and while device manufacturers are doing everything they can, they can't always get their products to market fast enough.
To make matters worse, chipmakers, industry leaders and analysts expect the global chip shortage to continue into early 2023, which means we could be looking at prolonged issues with technology production and delivery.
Quite simply, if you're a business that needs to buy new rugged tablets for your retail sales team, upgrade a fleet of handheld mobile computers in your warehouse, deploy new scanners or replace POS terminals or printers, you could potentially be looking at delays of up to three or four months. And things could potentially get worse.
What You Should Do to Keep Your Business Running Smoothly
If you have technologies that aren't running optimally or are damaged or broken, don't scrap them. Repair, refurbish or renew them instead.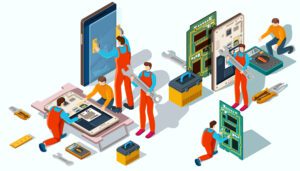 Our professional technicians at Mainstreet can repair and service your devices and get them running optimally again, so you can get months or even years of additional use out of them.
In a busy, high-traffic environment like retail stores or restaurants, technology is susceptible to damage. Over the long haul, if your devices aren't serviced and maintained, they can slow down or develop other issues that get in the way of your operations.
Due to constant innovation and planned obsolescence, it's normal to assume you need to invest in new technology when a device gets damaged or starts underperforming. But just because something breaks or isn't running well doesn't mean it should be tossed or recycled.
At Mainstreet, we can step in and help get your device back to working order in no time, with firmware and software updates, repairs, and routine maintenance.
We simplify the repair and service process with options tailored to the way you do business, including flexible options such as on-site service, depot advanced exchange, and repair-based coverage. These can help you increase the ROI and overall lifespan of your technology while helping to prevent costly downtime and interruptions if something breaks.
Circular Economy Opportunities
Another great option for dealing with current technology delays and shortages is purchasing refurbished devices. This is a good way to replace broken devices or get better functioning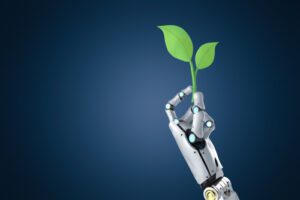 technology into your workers' hands while you wait for your new devices.
Hardware manufacturers such as Zebra have introduced refurbished device programs, which allow you to purchase devices that are professionally wiped, refurbished and restored to virtually as 'new condition'. You even get a warranty, and there are service and support options to keep your devices running optimally. It's modeled after the way consumers purchase certified pre-owned vehicles, and the program functions in a similar way.
Refurbished devices are often more readily available than new devices right now, but they also cost less. It's a way to affordably address your mobile technology needs in the short term if there's a delay in receiving delivery of any new devices you need.
Zebra also has other options for meeting your technology needs through its Circular Economy model, which not only includes refurbished devices but also allows businesses to rent or lease mobile devices. It's all part of a sustainable approach to technology that Zebra is encouraging through recycling, refurbishing and renting devices where it makes sense, all while Zebra continues to manufacture and supply best-in-class new technologies as well.
Contact the Experts
To learn more about the best ways to deal with today's technology shortages and delivery delays, connect with our team at Mainstreet right now to get pricing and lead times for the technologies you might need, and find out how you can repair and renew your hardware as a great backup plan.