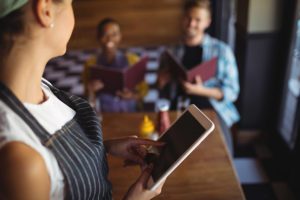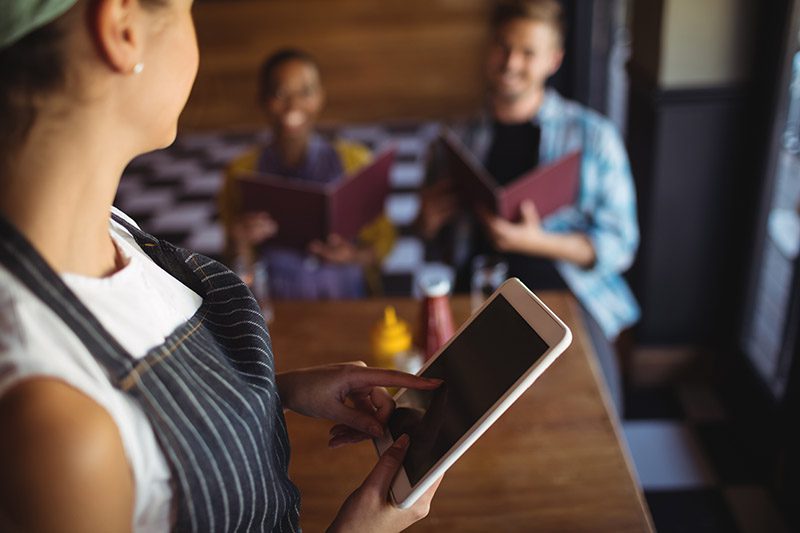 Historically low unemployment, new minimum wage laws, and increasing labor competition are all contributing to rising restaurant labor costs.
However, there are some steps restaurants can take to counter those cost increases, and one of the best strategies is using mobile technologies.
In this article, we take a look at a few ways mobile devices can be used to improve staff efficiency and reduce labor requirements and costs in restaurants, all while enhancing guest service.
Enhancing Staff Efficiency
Tablets and smartphone-style handheld mobile computers are a great way for restaurant managers and staff to manage reservations, monitor wait times, share alerts about maintenance and inventory tasks that need to be completed, and quickly collaborate to ensure quality customer service.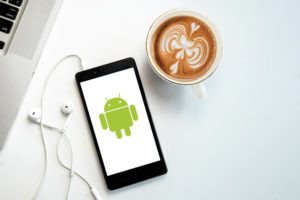 They're also an excellent way to manage staff and control labor costs by accessing labor schedules, making real-time scheduling changes to add staff or cover a shift, and even receive real-time overtime alerts.
By using mobile devices with restaurant management apps, you can access information, communications, and alerts at your fingertips. This helps you keep the restaurant running smoothly and capitalize on every opportunity to improve labor and service efficiency and combat rising restaurant labor costs.
Providing Tableside Ordering and Checkouts
Tableside ordering and checkouts are great ways to speed up service and get patrons on their way when they're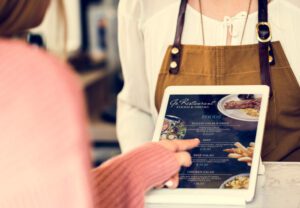 ready to pay for their meal. There are two ways you can use mobile devices to enable tableside solutions.
One is to equip your staff with handheld mobile computers or tablets that allow them to access your ordering system, so you can replace pen-and-paper order taking with app-driven mobile ordering at the table. Your staff can enter orders into your system right away at the table, without having to re-enter them at a digital kiosk.
With mobile computers, your wait staff can also manage guest checks and accept EMV, credit or debit cards, as well as mobile wallets and other NFC payments.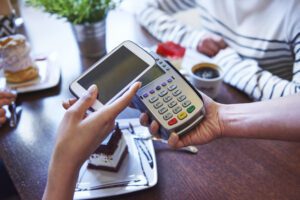 You can also take things a step further by providing self-service ordering and/or checkouts using restaurant-grade tablets as ordering and payment kiosks at the table. Patrons can order meals, beverages, and other items at their convenience, and your staff doesn't have to make extra trips to the table. Patrons can also add items to their bill as they dine, and you can configure your tablets to showcase and up-sell specific items.
Leveraging Line-Busting Strategies
Another way to use tablets, especially in quick-service restaurants, is to provide self-service ordering kiosks near the front counter. Leading fast food restaurant chains have already implemented kiosks, which help provide quick, efficient ordering when counter lines get long or when customers prefer self-service. They also have the added benefit of potentially reducing staffing needs for order taking and freeing up staff to handle other restaurant tasks. The more customers can do themselves, the more you will be able to decrease employees on the clock and tackle rising restaurant labor costs.
Streamlining Inventory Management
At the back of the restaurant, mobile devices are also an ideal way to streamline inventory processes. You can use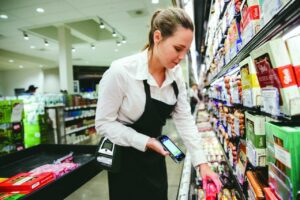 handheld devices, such as Zebra's TC52 touch computer, to scan cases and individual inventory items, and automatically update and maintain inventory with a simple mobile app.
By automating your manual inventory processes, you can reduce the time and labor required to conduct inventory counts and replenishment, and ensure you have the right items and products in stock at all times.
Exploring Mobile Solutions to Handle Rising Restaurant Labor Costs
To learn more about the advantages of restaurant mobile technologies and get expert strategies and tips, contact our mobility experts at Mainstreet to schedule a free consultation.