Customer Experience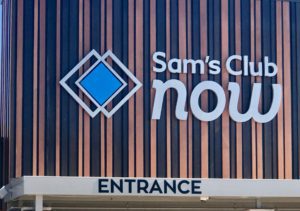 Most of us in the industry know about the new Sam's GoNow store in urban Dallas as a technology incubator for the company but it's not just about scan and go. As Jamie Iannone, CEO, SamsClub.com and EVP of Membership & Technology says "Sam's Club Now will remain a one-of-a-kind working lab where engineers will develop and refine shopping tools based on customer use," he said. Those capabilities then can be taken to other stores.The Scan & Go app will be the "backbone" of the store and will be the only way to shop and check out.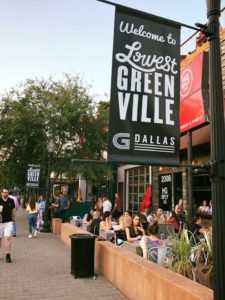 Because I live within five minutes of the store, I wanted to share the perspective of a local with you and as someone who may be an ongoing shopper, reflects a considerable segment of the location's demographics and knows the neighborhoods and history of the location very well. I've also included feedback about the shopping experience, the scan and go technology,and where I think they have room for improvement.
Lower Greenville Neighborhoods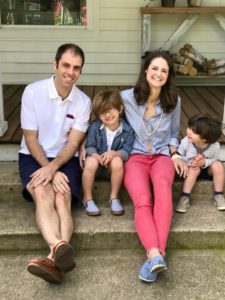 The store is located on LowerGreenville in Old East Dallas in a location dating back to the 1960s/1970s when it was a Blue Bonnet Store, which was later acquired by Whole Foods. WalMart's Neighborhood Market occupied the space from 2012 to 2016 but faced closure that was likely accelerated by the opening of local favorite Trader Joe's directly across the street. WalMart has the lease on the property until 2032 and does not appear to be open to letting it go to a company other than its own.
The site is surrounded by strong, vibrant neighborhoods like M Streets, Lower Greenville, Belmont Addition and Vickery Place – neighborhoods dating back to the city of Dallas' first northward expansion in the early 1900s. The streets are lined with unique Craftsmen, Prairie Style and Tudor homes and residents enjoy being within walking distance of great local, independent businesses and restaurants.
Our neighborhoods are eclectic. We are known for that across the Dallas-Fort Worth region and are a highly sought after area to live and raise a family. It's like a small town where people say hello when out walking and we usually always run into a few people we know when out and about. We are not the suburbs nor are we HOAs but we are steadfast to keeping a
great quality of life for our residents.
There's a lot of grocery competition too. Within a 10-minute drive of Sam's Go Now, are Kroger, Whole Foods, Central Market, Fiesta, Aldi,Tom Thumb, Sprouts, Walmart Neighborhood Market and directly across Greenville Ave, Trader Joe's. Costco is only a 15-minute drive up Highway 75.   
Overcoming the Mess that Walmart Created
It could be an uphill battle for Sam's in trying to win over the neighborhoods as the relationship with Neighborhood Market, was adversarial. Delivery trucks ran throughout the night using the narrow residential street on northern boundary of the lot which damaged property. Customer service was poor as was product assortment and quality.
To its credit, Sam's not only acknowledged those issues, they met with the respective neighborhood representatives this summer to discuss their plans and neighborhood objections. I participated in one of these meetings where the Sam's representatives discussed the new concept and plans for the site. The issues raised by the neighborhoods included night time deliveries, esthetics of the building exterior and integration with the cityscape as well as the product quality and assortment.  
Sam's listened, at least in part. Deliveries only take place during daytime hours and when they do it's using the wider street to the south of the lot which is also a small distance from homes. They hired a local artist to paint a mural on the building's exterior southern wall. The mural features famous Dallas sites including local icon The Granada Theater.  In fact, when the muralist was painting late one night and the neighbors complained, he was told to stop until the next day.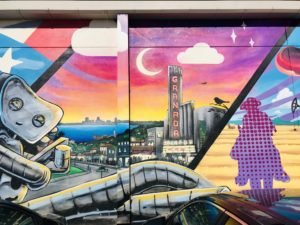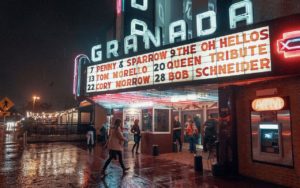 The store had its soft opening on October 31 and grand opening November 16. According to one associate, opening on Halloween may
not have been the best idea as they had a lot of unsold candy.
Curated Selection
At only 32,000 square feet, Sam's Go Now occupies a fraction of the space allocated to a traditional Sam's Club. Smaller footprints are typical of many urban stores and have proven to be a successful strategy for retailers like Target.
Because Sam's smaller space requires a smaller product assortment, they've curated their merchandise assortment for this location to their top 1000 SKUs.
It has also curated its store associates. The store manager was hand-picked by Sam's leadership and she has also selected her team from some of the top associates in the area.
Shopping at Sam's Go Now with Scan and Go
I headed out to the store at noon on Thursday, November 29th. The store was quiet and I was greeted by a staff member who asked if this was my first visit. I advised it was and that I wasn't a member but was interested in becoming one, learning about the location and shopping there.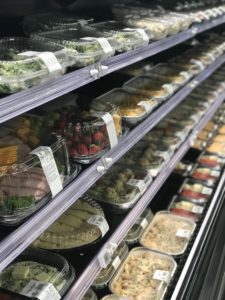 It took about 10 minutes for the associate to sign me up for membership using a tablet and my phone. We then loaded the Sam's Go Now app featuring the scan and go technology onto my phone and the associate showed me how to use the app by scanning a few welcome treats (Rice Krispie square, gum, Kind Bar, etc.). Those items totaled about $5 when they showed up on my running receipt but the associate advised they would be removed from my bill when I checked out using the scan and go app.
When you enter the store, a modest selection of prepared foods is found to the right of the front door, sushi made fresh daily is over to the left as is produce, deli, meat and seafood sections. Dairy and frozen is along the back wall.
There's a lot of staff in this store. Most are very helpful and very proud of their store. Sam's corporate understands the importance of associates bringing the customer experience to life and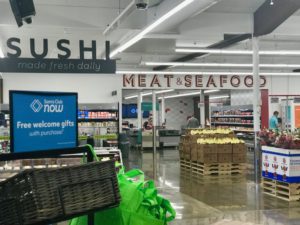 empowering them with technology, helps them serve members faster and better.   
If you're looking for an item enter it in the search bar at the top of your screen (I was looking for cereal that day). The Scan and Go app will give you all the options for that product, its price and even their location displayed on a map of the club – along with where you are in relation to that location. What you don't see though is product info or customer reviews – both of which would make the shopping experience better.
If you have kiddos, you may want to try the Magic Cart. Ask an associate for one of their tablets, scan the cart and you can make your cart a pirate ship, or a rocket. There are a few other options. Sam's may want to improve this app by letting shoppers post on their social to share with family and friends.
There were a few sampling stations – one in the bakery area featuring pumpkin pie and another in the meat section sampling pork loin – to try before you buy.
The digital signage loop in the meat department briefly flashed a recipe for chili but even though I waited a few minutes, it didn't flash back up. Instead it displayed content about InstaCart which is displayed throughout the store. It may be a good idea to have more recipes in the loop as it's a great way to give shoppers ideas for dinner and possibly increase their purchases.
There's a Freeosk between the baked goods, meat and seafood departments. I scanned my membership card and got a free sample of Trident gum. It appeared that the freebie offered by the store changes periodically.  
Of all the merchandise in the store, it was the seafood that impressed me the most with a wonderful, very fresh looking selection.
When I picked up everything on my list, I selected 'checkout' on the scan and go app which then displayed a QR code on my phone. I proceeded to the dedicated exit where an associate equipped with a Zebra handheld device scanned the code and physically checked the items in my cart to the receipt. This could prove to be a bottleneck on a busy day with shoppers having to wait for an associate to inspect their cart.
Did They Win Me Over?
Not really. I'll still be a loyal Costco shopper for most of my staple items but I will visit Sam's periodically for convenience shopping, but because they have a curated assortment, they don't have everything I need on my shopping list.
I'm also curious to see where they will take their technology, including the scan and go and how it will impact the rest of the chain as well as influence other retailers.
Because it's a technology incubator and they have the lease for another 14 years, Sam's probably doesn't need this location to be a huge success with shoppers. They probably just need enough that they can test technology.
I hope that will not be the case and they will continue to make the location and assortment better by fine-tuning it to the demands of the neighborhood shoppers. Most importantly, when the new store glow subsides, I hope they'll keep the high quality of store associates who really make the shopping experience pleasurable.