Despite the concern across the industry that retail is dying, it is in fact a still growing sector. There are over one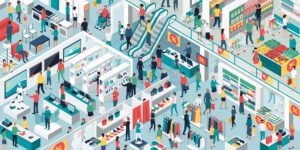 million retail establishments across the U.S. and retail sales are up, growing almost 4% each year since 2010.
Top 5 retailers in 2010:

Walmart (304.96 billion)
Kroger (76.73 billion)
Target (63.44 billion)
Walgreens (63.34 billion)
Home Depot (59.18 billion)

Top 5 retailers now:

Walmart (387.66 billion)
Amazon (120.93 billion)
Kroger (119.7 billion)
Costco (101.43 billion)
Walgreens (98.39 billion)
The past decade in the retail industry has brought major changes to the way consumers shop, thanks to the huge role technology and ecommerce plays in the daily lives of people today. In the beginning of 2010, ecommerce made up only 4.2% of total retail sales. At the end of the decade in the third quarter of 2019, that number skyrocketed to 11.2%, proving that customers are taking hold of the ecommerce trend.
Both now and at the beginning of the decade, grocery was the most dominant industry, with Walmart leading the way. However, the rapid growth and expansion of Amazon from a book distributor to a company that sells literally anything from A to Z changed the way retail customers shop forever.
Amazon led the way when it came to the takeover of ecommerce. Because of the convenience factor Amazon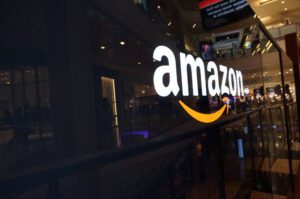 brought consumers, many malls and brick-and-mortar retail locations found their demise, with 20-25% of shopping malls projected to close by 2022. Some of the major retailers to close their doors this past decade include 1700+ Blockbuster locations, 399 Borders locations, and over 800 Toys R Us stores. Not to mention retailers have closed over 8600 stores in just 2019 alone. What seems to be a prevailing theme with many of these failed retailers is their inability to evolve their business to meet consumers' changing shopping needs.
However, not all brick-and-mortar is doomed. Some retailers, such as Best Buy, have reinvented their in-store strategies to these evolving consumer demands. Retailers who are focusing more on the overall customer experience and strengthening customer relationships are finding long-term success in today's ecommerce-driven world.
What exactly does this mean for retailers in 2020?
At the beginning of this third decade of the millennium, consumers are demanding more from retailers in terms of keeping up with technology and digital trends and a mobile-enabled world. With these insights and tips, your operation will discover some of the top ways retail technology trends have been shaped across the past decade, and can help your business get ready for the next.
Easier Access to Product Information
Over the past decade, internet access has become stronger and more prevalent across the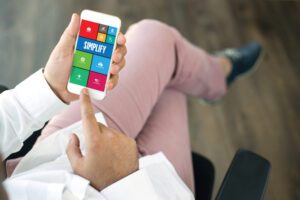 country, not to mention more people than ever can connect to the internet via smart devices. This means consumers have access to a wide variety of information at all times.
These retail customers can use this information to their advantage. In fact, 69% of consumers look up product information and reviews on their phone before they're ready to speak to a store associate, not to mention that 6 out of 10 shoppers use their mobile devices to compare pricing while they shop. As the new decade continues to develop, more retailers will need to place an increased focus on building their online presence. Websites should be mobile-friendly and contain accurate product information, reviews should be monitored and prioritized to maintain a good reputation, and your customer experience online should match what customers love about you in-store.
Delivery is Everything
If you mentioned retail delivery at the beginning of the decade, the first thing that likely came to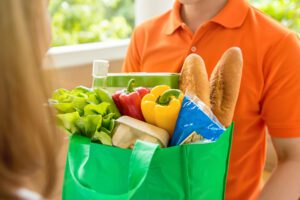 mind was mail order catalogs and few retailers, save Amazon of course, playing in this valuable retail space. However, as the decade rapidly advanced, so too did the online ordering and delivery space for retailers.
Today's consumers are all about instant gratification. They want their items to arrive as soon as possible, which gave rise to the ever-growing delivery boom we know today. Amazon began to offer 2-day shipping for their Prime members and Instacart will deliver your grocery order within several hours.
The overall driving factor of delivery is convenience and today's retail industry customers are tuned in to making their lives as easy as possible while getting everything they need.
Increased Mobility
Mobility has without a doubt changed the way consumers shop, especially when the iPhone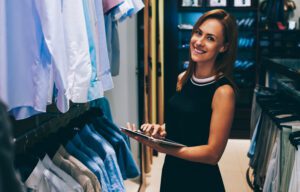 launched in 2007. With data service available via smartphones and many brick and mortar retail locations offering WiFi, customers have access to product information at all times via smartphones and tablets which enhance the shopping experience and give way to the ability for guests to participate in experiential retail.
Retail workers are also cashing in on the increase in mobility seen across the industry. Not only can this augment the level of customer service associates provide to guests, but it can also create automated and effortless systems of retail management such as:
Reduced the need for manual inventory counts
Increased accuracy of inventory reflected online
Cashing out customers right in the aisle or sales floor
Rise of RFID, IoT, and Omnichannel
Technology is the main driving factor in the development of the retail industry across the past decade and there are several big developments in technology that are still paving the way for the industry as it advances into the next decade.
RFID
Traditional barcoding systems are becoming outdated and, in some cases, obsolete. RFID (radio frequency identification) technology is replacing these systems as a modern solution to an aging problem. This technology can help retail operations reduce out-of-stocks, lower the cost of managing inventory, decrease the amount spent on labor, and help increase the overall number of sales that operations close.
IoT
IoT stands for Internet of Things and it is the connection between the physical world with internet networks. There are virtually limitless applications of the technology, which help retailers place an emphasis on cutting costs, increasing efficiency, and improving customer and employee engagements.
Smartphone checkouts, buy-online/pick-up-in-store (BOPIS) programs, and wearable technology products are all examples of how IoT has created new and exciting shopping experiences for customers across the retail channel.
Omnichannel
In retail, there is no longer a divide between brick-and-mortar and online shopping. With the help of omnichannel for retail operations, many organizations can streamline management across all channels and create an effective and efficient connection between the physical retail business and the digital channels it takes to operate your business.
Preparing for the next decade
Retail technology is constantly developing and changing. As the industry continues to evolve, an innovative technology suite of solutions is essential to help set your operations up for success.
It's time to take your retail business to the next level in preparation for the next decade of retail technology. Consult with one of Mainstreet's retail technology experts to help you find the right technology solutions for your operation today.