2020 was a transformative year for every industry to say the least. Overnight, the retail landscape was turned on its head, accelerating the closure of chains that were already struggling and forcing the implementation of new business models and the technologies to go with them. We also experienced massive shocks to the supply chain as consumers purchased almost a year's worth of products in a fraction of that time.
As a year in review, here are the most significant 2020 retail trends we saw and the companies who adapted to outshine the competition. We would love to hear from you about those that top your list!
2020 Retail Trends
Boosts in Ecommerce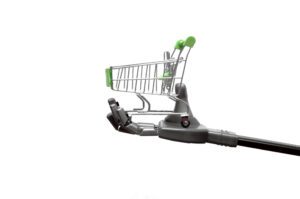 While the retail landscape has been moving over the past few years to more online business, it was the pandemic that truly accelerated ecommerce investments. The challenge is that in transitioning to online, retailers are directly competing with thousands of digital storefronts. Brands themselves are no longer just subject to competition against a handful of products on store shelves. 
A common trend, many retailers and brands have tried to distinguish their online experiences from competitors using personalized eCommerce experiences such as chatbots, sales video chats, and virtual demos. 
US Ecommerce Growth Jumps to More than 30%,
This time was also used to establish / enhance Direct-to-Consumer sales models that generate more in-depth insights about consumer needs, maintain control over the brand experience, and differentiate their proposition to customers. Several prominent brands and retailers focused on blending online and in-store shopping while emphasizing a more engaging and socially distanced shopping experience. Shout out to Sephora for adapting their business beautifully!  
Touch-free shopping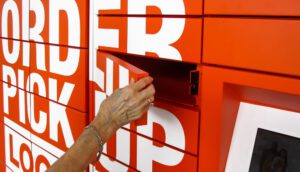 Before the pandemic, one of the appeals of shopping was the hands-on experience; enjoying free food samples, trying on clothes, testing makeup, and even swiping your card at checkout. Now, the appeal is the opposite. Customers are looking for retailers who avoid shared surfaces and work to limit direct interactions. 
This has led retailers to invest in contactless checkout approaches and expand availability of smartphone apps for ordering and checkout. Some retailers are coming up with creative approaches, such as installing lockers from which customers can retrieve online purchases by scanning their phone. Lowe's, for example, has found the strategy so effective they will be outfitting all their 1700+ stores with pickup lockers by March 2021. 
A more significant reliance on malls as distribution centers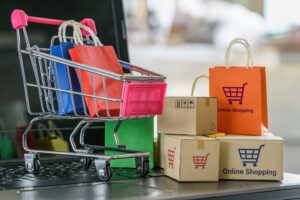 As malls continue to struggle and online shopping soars, mall owners are evolving their operations to partner with tech-enabled logistics companies to establish micro-distribution hubs in their properties. "Today more than 60% of mall-based retailers have ship-from-store capability, with malls averaging 950 to 3,200 packages shipped daily, according to Fillogic, the logistics-as-a-service platform." Plus they enable retailers to offer faster, one or 2-day shipping to customers – often as quick as same-day delivery. 
Grocers are also benefiting from converting a part of their store to micro-fulfillment centers. Ecommerce performance is significantly enhanced – SKU rationalization creates a more targeted in-store assortment and can broaden the online assortment and improve order fulfillment times / accuracy as workflow is optimized. Wakefern and Albertsons are a few of the grocers implementing micro-fulfillment centers to enhance their ecommerce order fulfillment business. 
Reliance on inventory management and forecasting analytics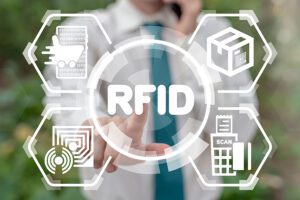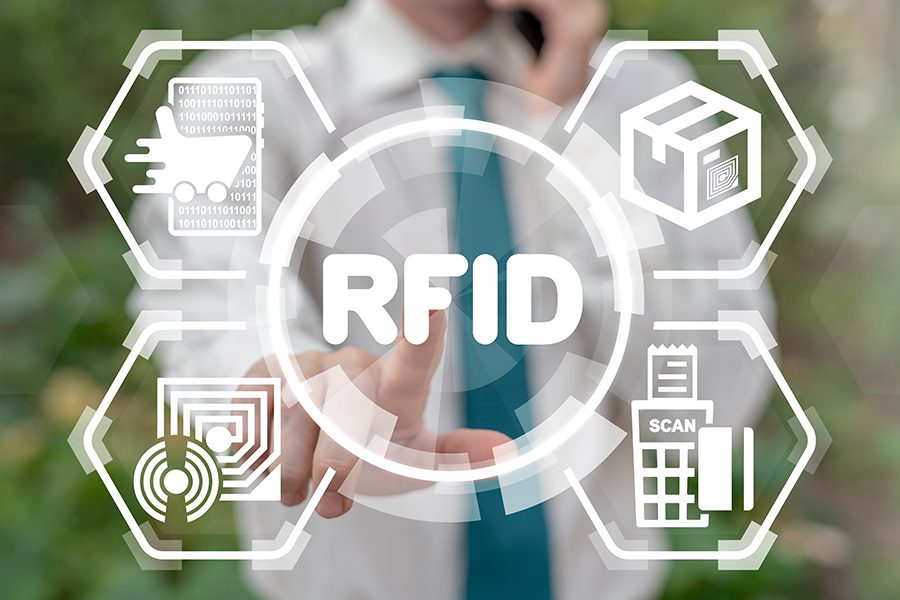 With the profound change in customer demands and panic buying, many retailers experienced crippling stock issues. This has caused many to update or invest in new, up-to-date inventory management systems and value their predictive analytics, thinking about inventory in the long term and using predictive analytics to manage demand fluctuations. 
Predictive analytics and management can be used to successfully manage panic buying while allowing managers to better allocate stock amongst stores. RFID and barcode scanning both play a big role in managing inventory, allowing retailers to obtain better supply chain visibility and understand what inventory they have. This helps retailers track products being sold on the sales floor and online, as well as what products are still in the receiving area or store rooms that need to get out onto the shelves. 
Retailers Who Rose to the Occasion
While many industries experienced a decline in brand loyalty, retailers experienced brand intimacy and loyalty rise by 33%. These retailers were able to capitalize on the 2020 retail trends mentioned above to thrive and become brands customers "can't live without." 
Here are some of the other retailers we think came out on top and the 2020 retail trends they used to get there: 
Petco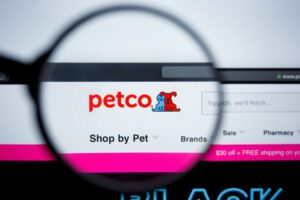 Nation-wide lockdowns and restrictions forced many people to spend more time home alone. Pet adoptions soared as Americans had more time on their hands to take care of and pamper their pets. In fact, the number of U.S. households with pets is expected to grow by 4% this year, creating an estimated $4 billion in additional pet care spending for a record high total spend of $99 billion expected for 2020. 
RILA's Retail Compliance Center (RCC) recently published an interview with Petco's Manager of Environmental, Safety and Health to find out how their business has pivoted due to Covid. Highlights include: 
"We now have about 500 ship from store locations, which decreases store foot traffic while maintaining customer sales. We also added curbside delivery, where customers can buy online and pick up curbside at their local store. Customers can even do a "takeout" option where they provide a list to staff at the store and items are brought to their car.

We are planning to integrate our technology to have a one stop shop for our staff. Right now, we have different platforms for training, online orders and returns. Consolidating to one platform will help us be more efficient during a busy and constantly changing time."
Taking advantage of the increase in demand, Petco is planning an IPO.  They are also leaning on the $300 million they invested to innovate their digital strategies, as well as transitioning stores to more than a storefront by providing pet care services like in-store veterinary clinics (Vetco) and grooming facilities. With extremely good timing, Petco thrived in 2020 and will likely continue to do so in the new year. 
Levi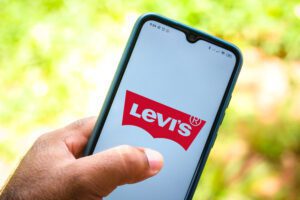 In the past couple months, Levi launched contactless shopping options like BOPIS, curbside pickup, same-day delivery, and appointment scheduling for in-store visits. They even offered connections with stylists via live chat. In July, Levi expanded its existing partnership with Google Lens to give consumers a contactless way to learn more about how products fit while they're shopping in-store. Recently, Levi partnered with TikTok's "Shop Now" program, giving consumers the ability to purchase items they love via TikTok. 
Unlike other retailers, Levi has been opening store fronts during the pandemic. Relying more on small, personalized boutique stores over big box stores, Levi was able to keep their doors open by expanding with a smaller footprint and positioning their stores in prime locations for optimal consumer traffic. 
For more on Levi's pandemic response, this is a great interview with their leadership team.  
H-E-B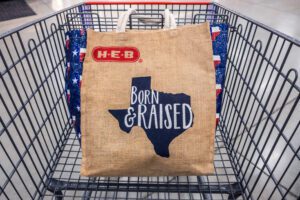 Recognized as Grocer of the Year  for its pandemic response this spring in which H-E-B demonstrated it could "move mountains", over the past few months it has "proven its agility and deep understanding of its shoppers".
Grocers were the overall retail winners, especially as consumers looked to home meal preparation as a safe and even entertaining way to feed their family. H-E-B's emergency preparedness team began tracking the virus's progress in January, implementing product purchasing limits early to ensure they had more product on the shelves when other grocers ran out of stock. 
H-E-B put a high value on their employees during the pandemic. While other grocers were winding down their employee raises, H-E-B instituted permanent wage increases and awarded bonuses to employees. They kept customers satisfied by offering services such as curbside and delivery grocery orders, and limited in-store traffic for a more enjoyable grocery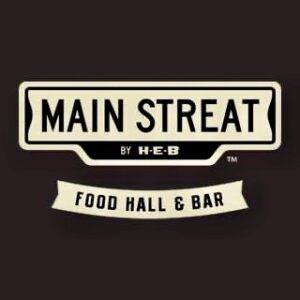 experience. In March, H-E-B even established a dedicated delivery service for people aged 60 and older that became a lifeline for vulnerable customers. H-E-B's choices helped them gain brand loyalty and recognition as a grocer of the year).
H-E-B has also resumed opening stores, pushing into new markets (Lubbock TX), increasing density in core markets (San Antonio, Austin) and rolling out new concepts including Main Streat, its first in-store food hall featuring local restaurants, as well as in-house restaurant concepts at a store in Austin, Texas. 
Walmart
By offering a robust online presence, Walmart's eCommerce investment has paid off with online and in-store sales soaring during the pandemic. Recently, Walmart made headlines when it announced that it would overhaul 200 of its supercenters into airport-inspired stores, complete with more prominent signage, contactless checkout, and other innovations. 
Additionally, Walmart's online grocery pick-up and delivery services are tailor-made for the current environment, including plenty of safety measures such as glass dividers and aisle directions for customer safety. By refocusing their inventory and marketing efforts on essential items, Walmart became more of a "can't live without it brand" than ever before. 
Best Buy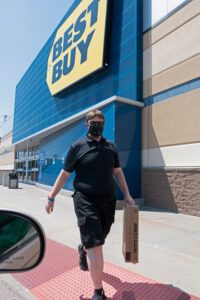 When they shut down all physical locations in March of 2020, Best Buy boosted their curbside programs which helped many of us prepare our home offices to work remotely. We found that Best Buy is often a great alternative to Amazon with faster order fulfillment and delivery, even better pricing on some products.  
Best Buy also realized how much demand still remained for in-store experiences. After considering the large influx of online and pickup orders requested by geography, they decided to open their stores for one-on-one in-store consultation services. By allowing customers to schedule appointments in-store, Best Buy was able to stay successful during a global pandemic.
To improve upon their success, Best Buy also announced that it would significantly reduce selling space to convert four Best Buy stores into fulfillment hubs with a new program with Shipt, using Shipt drivers only for pickup and delivery fulfillment and not for in-store picking. 
These companies recognized and  invested in the right trends at the right time; If you're ready to stay on the cutting edge and boost ROI in 2021, let Mainstreet help you get the right products backed by the right services for your unique retail needs. Our team would love to hear from you!