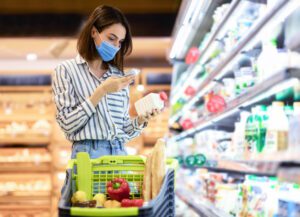 In 2020, retailers were forced to re-think business, beginning the era of contactless shopping and technologically advanced stores. While stores around the nation put new safety measures in place and established alternative shopping solutions, there are a select few who stood out amongst their competitors. From offering online experiences that are immersive, emotionally connective, and safe to establishing smart grocery technology, here are the top ten grocers and the technology they used to stay on top in 2020.
10. Target
Starting at number ten is consumer classic, Target. Target saw record sales in its second quarter of 2020, with the most significant percentage increase in quarterly sales in the company's history. This was driven by their convenience as a one-stop-shop store and their extensive eCommerce operations that allow budget-conscious shoppers to simultaneously pick-up groceries, clothing, electronics, and home goods.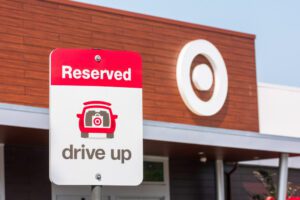 For shoppers who wanted to avoid in-store shopping entirely at the start of the pandemic, Target already had a robust eCommerce presence in place. This allowed them to start providing customers with contactless shopping options immediately instead of halting operations and scrambling to get online last minute. In addition to their immersive online shopping experience, Target scaled up promotions of their curbside pickup and home delivery, encouraging shoppers to utilize these services during lockdowns.
Target's extensive investments in contactless shopping prepared them for the high demand of eCommerce BOPIS services that ensued during the pandemic. In fact, Target added 10 million new digital customers in the first half of 2020 alone. Target's chief executive, Brian Cornell, addressed the company's success during the pandemic, saying, "Throughout this crisis, we have deepened our relationship with American consumers and introduced millions of them to our digital fulfillment services."
9. Giant Eagle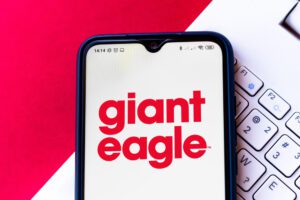 The Pittsburgh-based grocer was able to step up its technological edge and expand its presence in 2020 to gain its position at number nine. Having already created a shopping app, Giant Eagle was able to alter it to incorporate curbside pick-up when the pandemic struck, putting it ahead of most of its competitors. However, the Eastern chain went even further in 2020 by introducing checkout-free technology in some of their stores, allowing customers to spend less time in checkout lines.
Giant Eagle made a deal with Grabango to retrofit one of Giant Eagle's GetGo convenience stores. The newly implemented grocery technology allowed shoppers to walk into the store, pick out their items, and leave without standing in the checkout line. Resembling that of Amazon Go, shoppers simply download an app where they can add payment information. Once set up, they receive a QR code to scan at the store and skip the checkout lane. Giant Eagle has plans to retrofit approximately 470 locations in the future, depending on customer response to the technology.
8. BJ's Wholesale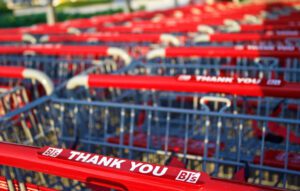 At number eight sits Massachusetts native BJ Wholesale. BJ's has benefited from two key pandemic trends in retail– consumers eating more meals at home and buying in bulk when they shop. Because of these trends and BJ's business model, which allows them to operate more like a supermarket and generate a higher percentage of its sales from grocery categories, the company was able to beat out Amazon, Costco, and Walmart in the stock market growth in 2020.
BJ Wholesale can also attribute its success to its digitally-enabled services and eCommerce. BJ's said its "digitally-enabled sales," including same-day delivery through Instacart and curbside pickup, grew by more than 300% last quarter. The company's ability to scale up digital sales and triumph over competitors is no surprise, as the rapid shift to online grocery ordering has been labeled as the next phase of grocery shopping.
7. Costco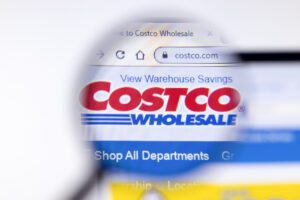 At number seven, Costco was able to maintain its stronghold by innovating its delivery services. Over the past year, Costco has been paying a lot of attention to customer service and amenities, ensuring their services provide convenient contactless transactions to make shoppers feel safer when they visit their stores. In the spring, Costco said prescription delivery service provided by Instacart would expand beyond test markets in Southern California and Washington to major markets in New York, Florida, Delaware, Illinois, Arizona, California, and Washington, D.C.
Additionally, the large wholesaler paid a reported $1 billion to acquire Innovel Solutions, a delivery and installation provider for furniture, major appliances, and other bulky items; the move is seen as a way for Costco to increase its eCommerce sales.
6. Whole Foods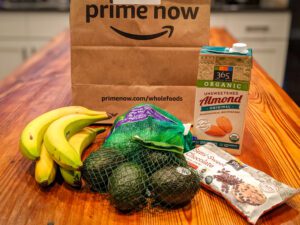 Ranking at number six is Amazon's grocer Whole Foods. Several hundred Whole Foods locations saw additions of cashierless Amazon Go stores and a new Amazon Fresh grocery store chain. These changes have shaken up how consumers shop, pay for, and receive their groceries. The company also opened its first Whole Foods "dark store" during the pandemic to quickly pick and pack online orders. Much like a ghost kitchen concept, it also offers a delivery service to shoppers' cars called Amazon Fresh Pickup.
Most recently, Whole Foods has rolled out smart shopping carts, or Dash Carts, that automatically track a customer's order. With Dash Carts, customers can scan a QR code to log in. Equipped with sensors and cameras that automatically identify products as they're placed inside, the cart then calculates the cost of the order and charges shoppers on their way out of the store, eliminating the need to stand in checkout lines.
5. Kroger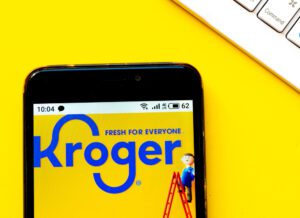 Coming in at number five is Kroger. Because the chain has the most extensive online sales volume of any traditional supermarket operator in the country, Kroger's ability to perform under pressure imposed by the coronavirus was no surprise. In the early stages of the pandemic, Kroger converted one of its Cincinnati stores to a pickup-only location. This allowed the store associates to fill orders quickly without having to stock shelves or ring up purchases, improving operational efficiency. With third-party vendor ClusterTruck, Kroger also established a Delivery Kitchen, operating kitchens inside Kroger stores that provide meals for delivery or pickup.
In late May, Kroger launched what it is calling "telenutrition" services. Operated by Kroger Health, the service builds on the company's "food as medicine" platform, offering virtual consultations with nutritionists, support and plans for individuals and families, and managing food-related health coverage.
Perhaps the most cutting-edge grocery technology emplaced was Kroger's smart shelf systems. The solution uses sensors and cameras to monitor what items are being taken off the shelf and need to be restocked, as well as recognize the shopping patterns of customers. Customers who have the Kroger app can receive personal pricing and product selections to customers on their mobile devices as sensors detect their presence in store aisles.
4. Publix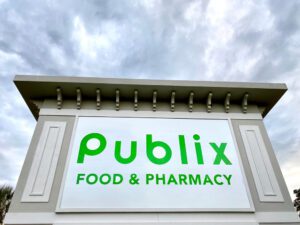 This Florida native grocer swept the market at number four with their extensive use of mobile apps and curbside pickup and delivery services. Customers of all ages have been more willing than before to download apps, try out services like curbside pickup, and seek out new ways to limit face-to-face interactions with cashiers and other customers. Publix partnered with Instacart in 2020 for the mobile ordering services to provide customers with a fresh grocery delivery program. Built with smartphone users in mind, the mobile ordering site prompts customers to save their order selections to a "favorites" section so future orders can easily be placed. Once their order is complete, an order pickup number is provided on the final order summary and emailed to customers.
In addition to mobile ordering, Publix also established GPS technology in-store. GPS software allows shoppers to search for item locations in-app, giving them step-by-step directions to the item's location. This feature cuts down on time spent wandering through aisles and limits interaction with store associates–crucial benefits in light of coronavirus safety concerns. Publix took their tech game even further by implementing in-store kiosks around delis that allow customers to place orders themselves.
3. Hannaford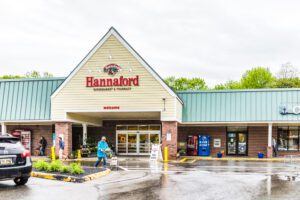 At number three, this eastern supermarket chain was the biggest mover, rising 137 places on the market. Hannaford focused on putting customers and employees first, in addition to infusing smart in-store technology with online purchasing and rewards to make their customer's lives easier. Hannaford To Go is a service that allows customers to order groceries online and pick them up at the store, inside, or curbside.
Inside the store, digital displays, touchscreens, and shelf-level sensors offer a more convenient shopping experience and help promote specific shopping categories. Instead of glass display windows, Hannaford has installed semitransparent LED displays for advertising purposes in some cold storage cases. Shelf sensors were also introduced to determine which products get pulled off shelves, along with tablet screens to display detailed information about these products. Touch screen kiosks are also available to customers to search for items off-the-shelf, such as medications or supplements.
The touch screen/smart shelf integration is a first for Hannaford, but it's one of the many attempts by grocers to make use of technology at the shelf to enhance the shopping experience.
2. H-E-B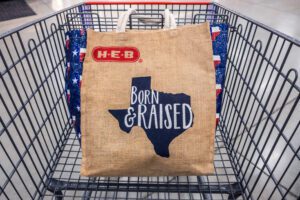 At number two is Texas-based grocer H-E-B. This grocer received kudos for how they treated their employees during the pandemic and how they were able to cater to customers with new grocery technology. H-E-B kept customers satisfied with a more enjoyable grocery H-E-B Main Street experience by offering services such as curbside and delivery and limiting in-store traffic. In March, H-E-B even established a dedicated delivery service for people aged 60 and older that became a necessity for vulnerable customers.
H-E-B's app allows customers to shop with curbside and delivery options at any time. The app helps customers save time with a reorder feature and a barcode scanner option, allowing shoppers to scan items in their cupboard for repurchase. The app also features GPS to assist customers in finding the items they want in-store, as well as clip and redeem digital coupons to get exclusive deals. Plus, customers can scan an item's barcode at the store to see if there's a coupon for it so that they never miss out on savings.
1. Wegmans
Topping the list at number one, the question is not "What did Wegmans do?" Instead, it's "What didn't Wegmans do?" Wegmans piloted a self-checkout app at three stores before the pandemic but rolled it out to 80 of its 103 stores this spring as customers sought out contactless shopping.
With Wegmans SCAN, a free mobile app, customers can scan and bag their groceries while they shop. The app tracks a running total for the order so that consumers know how much they're spending, automatically applying available coupons or discounts. When customers finish their shopping, they simply walk up to a kiosk or register to pay. In the future, Wegmans is hoping to implement more grocery technology that will allow their customers to skip the register altogether.
Earlier this year, the grocer redesigned their website and their app to allow shoppers to view and apply digital coupons as they build a personalized shopping list. Shoppers also now get more customized search results on both platforms. Additionally, both the website and app were updated to offer more options for curbside pickup and delivery. Wegmans offers a pickup lane for both groceries and foodservice and even delivers catering. Aside from partnerships with food delivery app DoorDash, Wegmans is also pioneering a new arrangement with Instacart.
Grocery Technology For Your New Normal
It goes without saying that digital technology has furthered how consumers expect to shop. With the new normal rearing its head in 2021, many experts are asking what grocery technology will stay and what will fade away. No matter what technology you choose for your grocery store, it's crucial to have the right partner by your side. Contact our team of experts at Mainstreet today.