As we're still looking to turn the corner on a public health crisis, grocers are assuming a more proactive and less reactive posture. They're looking for opportunities to turn the financial and traffic gains they've recently made into long-term growth.
In this article, we'll take a look at these challenges, what's driving them, and what stores can and should do to respond effectively. The good news is there are smart and strategic ways to use grocery technologies to tackle these challenges, and we've seen it first-hand in our work with many leading grocers over the past year.
Let's take a look at the six big challenges for grocers in 2021 and how stores can use grocery technologies to respond effectively.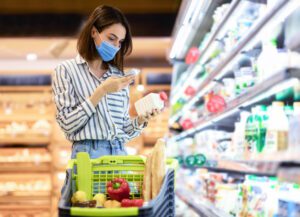 A New Normal with Changing Customer Behavior
COVID-19 has abruptly changed the way grocery customers shop, pay for, and receive their groceries, and things are never going back to the way they used to be. Current conditions will continue during the many months of vaccinations ahead, before consumers can resume normal levels of dining out, vacationing, going to the movies, and other activities.
We'll explore more indicators of these changes later in this article. But the shift toward online grocery ordering, curbside pickups, and home deliveries was happening and growing rapidly long before COVID, and it has simply accelerated at hyper-speed during the pandemic.
Moving forward, stores will need to embrace this new reality and must respond to changing customer behaviors and expectations, or they'll risk losing customer loyalty and dollars to competitors who do.
One way they're doing it is with grocery technology, with the top 10 players in the industry using an array of smart grocery technologies to deliver faster, safer and more convenient service. And a big area of focus is curbside pickup, which we'll explore next.
Curbside Pickup Demand
Given the explosive growth of grocery curbside pickups, it's not surprising that 48% of grocery retailers plan to introduce or expand their curbside service in 2021. It's all part of the huge surge in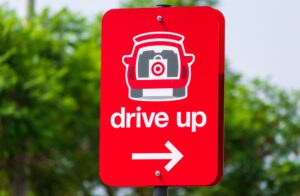 online grocery sales, which are projected to surpass $100 billion in 2021.
This is where mobile grocery technologies, software solutions, e-commerce platforms and other tools are playing a crucial role. Players such as Walmart, Kroger, Giant Eagle, and many other retailers are making major investments in mobile technology, infrastructure, and digital solutions to improve their curbside pickup services and performance.
Labor savings are realized by giving grocery associates the mobile and software tools to pick, fulfill and manage orders and pickups as efficiently as possible while enabling the grocer to process even more curbside orders. Plus, store associates can speed up and improve the inventory management and replenishment process so that store shelves and back-of-store areas remained stocked.
Razor-Thin Profit Margins
Many grocery stores need to invest in mobile technologies, new software solutions, and other tools to help enable and manage order picking, curbside pickups, and deliveries. But those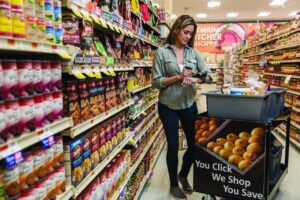 investments require funds that some stores have already invested in adding staff, deploying personal protective equipment (PPE), and reconfiguring their operations for better safety.
Fortunately, there are ways to selectively migrate to next-generation technologies and make needed improvements while saving on costs. Stores can do this by integrating new solutions with existing in-store systems, which allows them to maintain legacy architecture and systems where it makes business and financial sense, all while addressing pressing needs with innovation and investment in the right areas.
At Mainstreet, we've worked with a number of retailers to help them do this by identifying and prioritizing their biggest innovation needs while keeping their expenditures and deployments manageable and affordable. Doing this has allowed them to enable revenue-boosting improvements in multiple areas without breaking the bank, and the resulting revenue and profit they're able to generate helps pay for their investments and add to their bottom line.
The Need for Faster Checkouts
"Over the last six months, consumers have decreased the amount of time they spend in stores. Most shoppers have trusted items they purchase regularly and are less likely to browse the store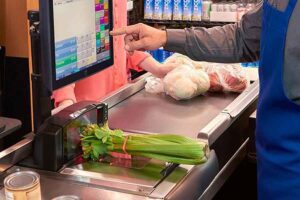 to look for a new ingredient or menu inspiration" says customer experience futurist Blake Morgan in a recent Forbes piece on lasting changes to grocery shopping behavior
Also, as Dunhumby's 2021 Retailer Preference Index (RPI) found, customers now equate "speed to shop" with "safer to shop." Speed was the biggest factor among retailers with a high ranking in what Dunhumby calls its COVID Momentum Metric, a statistical measure of how retailer execution on RPI preference factors affects short-term financial success in terms of market share gains. And factors that affect speed to shop include smaller stores, less foot traffic, and conveniences such as contactless payment at checkout.
This means stores need to focus on making the entire shopping and checkout experience faster and more convenient. And it's another area where technology is playing a key role.
For example, Zebra's new MP7000 grocery scanner scale speeds checkout time both in staffed as well as self-checkout lanes. The MP7000 is a next-generation multi-plane 1D/2D bioptic imager that dramatically improves checkout scanning speed and reliability, using advanced scanning algorithms to capture electronic and printed barcodes in virtually any condition. It does so faster and more reliably than any previous scanning technology.
The MP7000 can also be serviced in the checkout lane and is a solid-state device with fewer parts, meaning downtime is reduced and the cost of service and preventive maintenance is much lower.
Supply Chain Shock
Grocery supply chains continue to be challenged and disrupted by ongoing demand increases but many stores lack next-generation systems that allow them to track their inventory and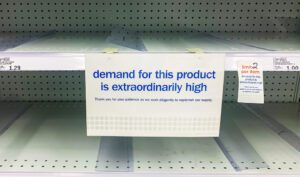 manage their supply chains more with more preemptive and proactive visibility.
RFID tags can be used to identify and track individual high-dollar items such as products in pharmacy totes. By using RFID tags, pharmacy associates don't need to scan individual items. An RFID reader can read multiple tags virtually simultaneously, eliminating the need to perform item-by-item scans or even have physical access to a barcode.
By automating inventory tracking and identification and by enabling a more real-time picture of stock levels, RFID is a way to take traditional inventory management to an entirely new level. And it can a vital tool to help detect, anticipate, and address looming out-of-stocks before they can occur and impact your sales and customers.
Dark Stores and Micro-Fulfillment Centers
The sales floor is busier than ever thanks to increased curbside and online-shopping. It's not just traditional shoppers and store associates focused on serving customers and stocking shelves,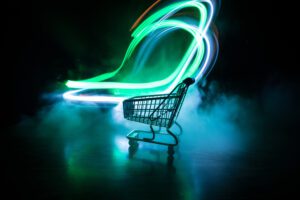 the grocery aisles now include curbside order pickers and, shoppers for third-party services such as Instacart. That creates a lot of congestion and presents a possibly unsafe shopping environment during a pandemic.
To address the congestion, smart grocers are creating micro-fulfillment centers within their stores. They're using perimeter space that's been set aside and devoted to fulfilling online orders, usually for center-store items. Curbside shoppers shop the micro-fulfillment center for center-store items and then marry those up with the balance of the shopper's curbside order.
Dark stores are another new development. These are large retail facilities that are set up in some ways like a conventional grocery store, but they're not open to the public. They're devoted entirely to fulfilling online orders, and because they're not available to the public, they can be configured in the most efficient ways to fulfill orders.
However, with these innovative new approaches, there is zero margin for error. Grocers need to stock and fulfill the correct items, and there's no immediate way to interact with a customer to choose substitutes for items that aren't available.
To pick and fulfill orders quickly, accurately and with little to no substitutions, mobile technologies and software are playing a crucial role. They automate fulfillment by guiding workers through the process, prompting the next items to be picked and their locations, and validating correct picks with barcode scans.
These solutions provide easy, touch-enabled workflows that ensure correct picks and shorten fulfillment times while making it faster and easier to train new fulfillment workers or re-train existing associates.
Planning Grocery Technologies for 2021 and Beyond
As we've seen with all six of the grocery challenges we've explored, technology is a primary tool stores are using to future-proof their operations for the post-COVID era.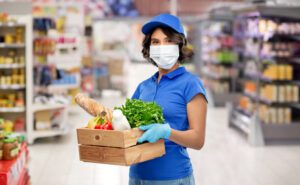 However, investments in technology come with a price, and stores need to be shrewd about understanding the best ways to use technology cost-effectively in their business. That's where it pays to work with an experienced technology partner that understands the trends affecting the grocery industry, the practical needs of stores and their customers, and the importance of making smart choices and investments that will deliver the best return and results.
At Mainstreet, we understand the unique challenges grocers face. With our decades of experience meeting the technology needs of retailers, we can help you make smart investments in robust, scalable technologies that can enable and optimize curbside pickup, streamline checkouts, boost inventory accuracy, and empower your associates with the tools to provide impeccable service in the most efficiency and cost-effective ways possible.
Importantly, we also understand that, with thin margins in the grocery business, it's critical to migrate to new technologies while also maintaining legacy hardware for as long as makes sense for your unique business needs.
Fortunately, our strong partnerships with technology leaders such as Zebra means we can bring you a world of expertise and solutions that are more affordable and integrate easily with your legacy systems. And the new speed, efficiency, fulfillment capabilities, and service improvements they enable will profit your business today and into the future.
Our team of experts can help you evaluate your current and future business needs and goals, identify and prioritize the most profitable opportunities for improvement, and deliver technology solutions that will help you meet today's challenges while building the foundation for a promising future.
To explore the technology possibilities for your stores, contact Mainstreet now to talk about your current technology infrastructure and how to forge the right path for your business.