How the historic brand is getting creative with experiential retail and the in-store shopping experience.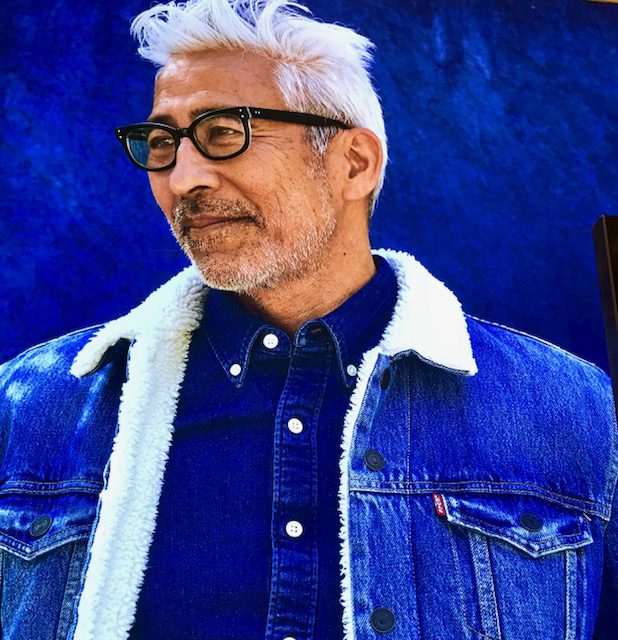 You'd have a better chance of winning the Powerball Jackpot then you would of finding someone who doesn't recognize the Levi's® brand. But how does a denim icon with a 150-year history continue to stay relevant and valued in an ever-changing market? While brand titans of the past like Oldsmobile, Blockbuster, and Panam are now distant memories, Levi's maintains a strategic balance of protecting a widely-loved brand and growing it – all while staying actively engaged with the surrounding culture by having an authentic approach to its experiential retail strategy. Rather than being curators, Levi's considers itself a 150-year old start-up by continuing to evolve and stay relevant while holding true to its denim heritage.
Levi's has done that very successfully, and their 2017 financial performance proves it.  "Our growth and momentum accelerated in Q4 capping the strongest revenue year the company has had in more than a decade," said Chip Bergh, president and chief executive officer on his vision for experiential retail. "Our strategies are working and the investments that we've made to diversify our business over the past few years are paying off, best demonstrated by the strength of the Levi's brand globally."
Fighting the Athleisure Trend
Athleisure shook all jeans manufacturers. Competitors responded with their own athleisure lines, but Levi's held true to its brand. Instead of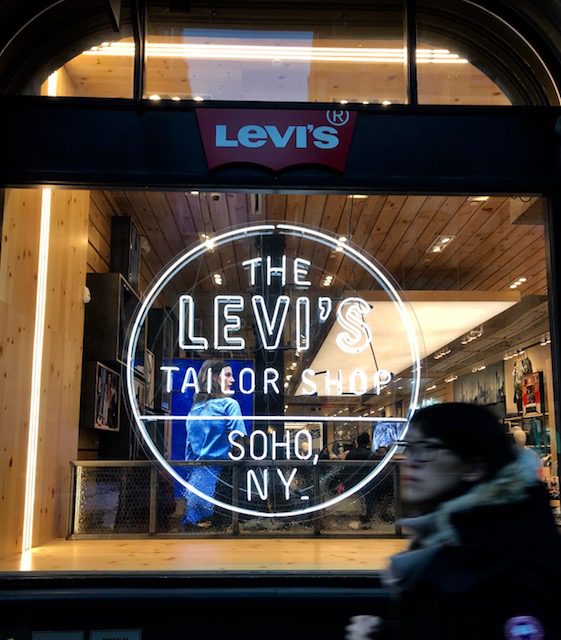 responding with yoga pants, it overhauled its women's denim, offering stretch jeans that fit and flatter as well yoga pants do. Those efforts drove successful results, as Levi's saw several quarters of increased sales in its women's line.
Going Direct to Consumers
As traditional retail segments like department stores faltered, Levi's wisely took the opportunity to go direct to consumers by expanding its network of company-operated stores, adding a total of 53 in 2017.
A major experiential retail upgrade of their SoHo NYC flagship was completed in late 2017 and a new Times Square Flagship is planned for later this year. This larger format of a company-owned store reinforces Levi's direct-to-consumer confidence and features Levi's technology advancements, customization and authentic Levi vintage products.
Experiential Retail at Levi's SoHo NYC Flagship Store
"For 150+ years, Levi's has been on the cutting-edge of design and practicality and they're now bringing that outlook to elevating the customer experience. From tailor shops to digital fitting rooms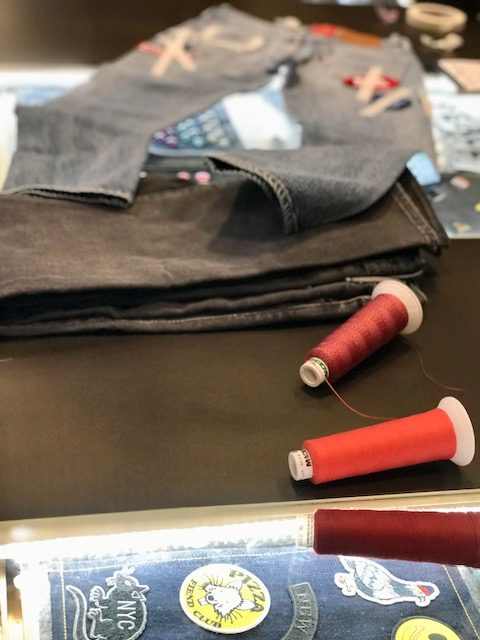 to mobile engagement, Levi's stays ahead of the curve in bringing value to their customers", says Terry Kasen, VP of Client Engagement for Mainstreet Inc.
We visited Levi's newest experiential retail store, its SoHo Flagship, to learn firsthand how the iconic brand continues to evolve and create an engaging in-store experience. Here's what we found:
Located in a historic cast iron building, Levi's SoHo flagship store has been fully transformed into an elevated customer experience thanks in part to insights gained from consumers. It incorporates the building's cast irons columns into its store design with a natural aesthetic that defines the brand's commitment to quality and sustainability.
Personalized Denim
The Tailor Shop was by far the busiest and most engaging areas of the experiential retail store. Shoppers can personalize their denim down to the button customization in a range of colors for both trucker jackets and button-fly jeans. It's also Levi's first US store to offer custom T-shirt printing and studding services as well as unique iconic SoHo and NYC pins and patches.
A recent Women's Wear Daily article notes, "The idea is to let customers finish the look that the brand started and is a nod to the trend toward personalization that has more shoppers, and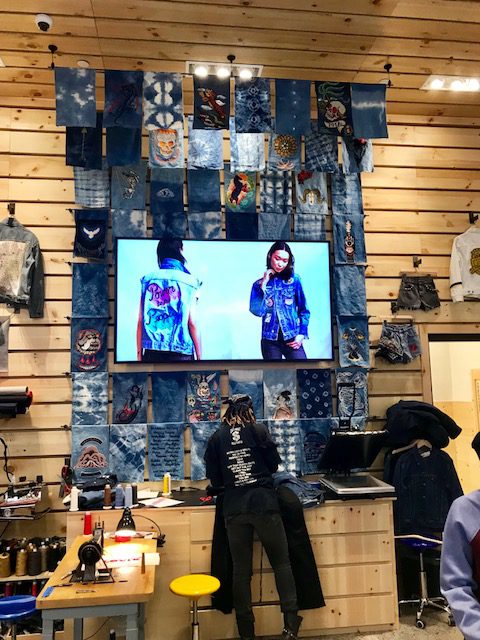 particularly millennials, wanting to take part in the design process."
Want to completely design your own jeans? Levi's Lot No.1 services do just that. You can create fully custom Levi's jeans designed by you and crafted by one of Levi's in-house Master Tailors. Scheduled to arrive at the SoHo flagship later in 2018, it will be only the third US store to offer this experiential retail service.
Showcasing Levi's Brand Experience with an NYC feel
Do you know about Levi's® Authorized Vintage? It's a collection of archive-quality denim that's been carefully stored by a single owner for over 20 years. The Authorized Vintage collection includes vintage, one-of-a-kind and personalized pieces including jeans and Trucker Jackets that makes up one of the largest vintage collections available today. They are beautiful well cared for garments with a story.
How many other brands or retailers can deliver on that longevity and love of brand?
Technology Boosts Shopper Engagement
Many of the experiential retail updates and additions were made in response to feedback from consumers. When it was discovered that the number-one reason people left stores without buying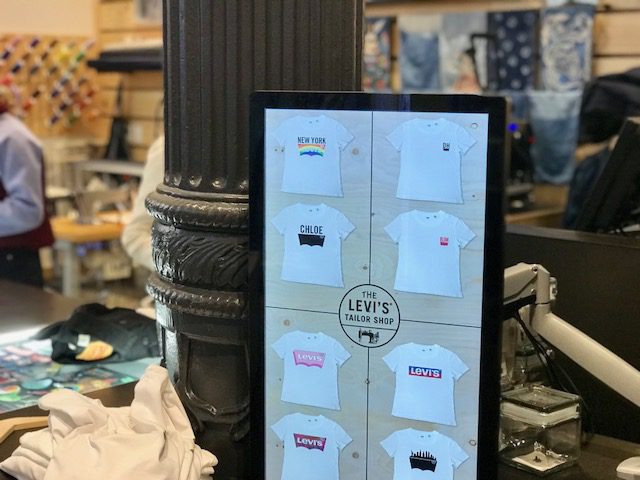 anything was because they couldn't find their size or color, the Levi's team implemented an RFID system to help better track inventory and keep its stock up to date. RFID enables the Levi's store associate to quickly find your favorite style and size and if it's not in stock at the store, the associate can locate it at another store or help you complete an online purchase for either home delivery with ship from store or BOPIS.
Mobile POS devices give staff and stylists the flexibility to work with shoppers directly on the sales floor and check them out quickly. Mobile workstations throughout the store let the Levi's team package goods, print receipts and remove EAS tags. Experiential retail upgrades like these mean fewer checkout lines, less need for traditional fixed cash wraps and a more open sales floor that can feature more amenities and opportunities for shopper engagement.
We can expect to see many of the upgrades in the SoHo flagship reflected Levi's fleet of stores.
What's Next for Levi? Project F.L.X.
Announced earlier this year, Project Future-Led Execution (F.L.X.) is Levi's new operating model that transitions the finishing of denim into the digital era. Project F.L.X. digitizes the design and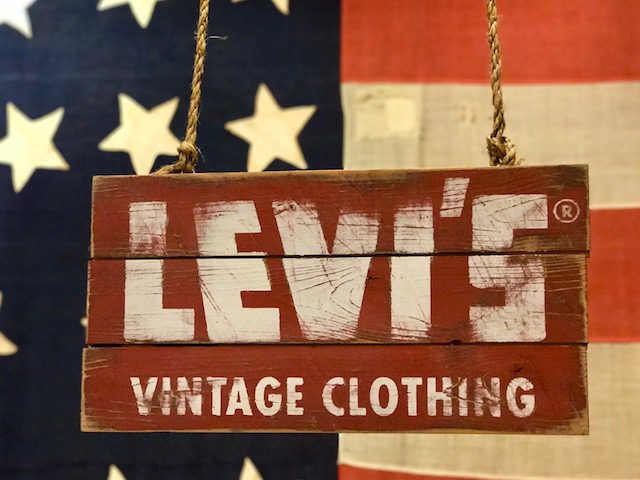 finishing of denim enabling an agile and sustainable supply chain by replacing manual techniques and eliminating chemical formulations. It also means quicker time to market, quicker response to clients' changing needs and getting the right product to market at the right time. This project adds a fresh digital edge to their experiential retail strategy. Project F.L.X. will be a game changer not only for Levi's, but for the jeans industry.
Opinions, comments or questions? We'd love to hear from you.
Great reads
Levi's SoHo Flagship Store Gets a Stylish Upgrade
Levis Brand President Makes Big Impact at Retail's Big Show
How Levi's Blends Heritage & Innovation to Win Over New Customers, Former Fans
How Levi's Survived the Death of Denim
Levi Has Strongest Year in Over a Decade
Forbes 2017 Brand Losers & Winners