And it's not just about in-store technology
There has been considerable press in the DFW area over the past month about Neiman Marcus' new Clearfork location in Fort Worth. We set out on a recent Monday afternoon to visit the store and observe firsthand how technology can elevate the customer experience.
We weren't disappointed. In fact, we were delighted that it wasn't just about technology.
Technology Enhances the Customer Experience
Digital signage greeted us as soon as we entered, informing us not only where thing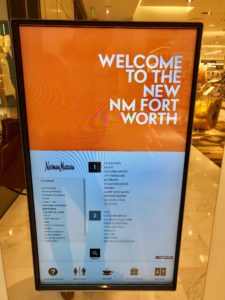 s are located in the store but also in-store features and special events including Neiman's popular Beauty Event. The signage was well placed, welcoming and helped us to make the most of our store visit.
Memory Mirrors are well-placed throughout the store from Cosmetics to Sunglasses to Apparel (fitting rooms and sales floor). A shopper simply sets up a personal account on the mirror and then view and video themselves trying on various items, share with their social media, even digitally change garment colors.
Our next stop was the cosmetics area to check out the Memory Mirrors. The feature we found most beneficial was the videoing of a professionally-done make up application. The video is then emailed to you so you can view it from home and follow the instructions. Cosmetics can be an impulse purchase and many of us have been enticed to purchase more than what we need only to come home with a bag of things we have no idea how to use.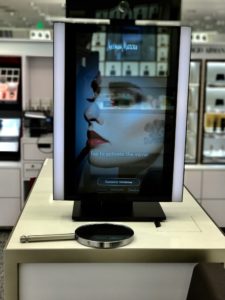 In the footwear section, RFID tags helped ensure that samples of all shoes are on the sales floor for shoppers to view.
Not just about the technology
The store was beautifully merchandised. The sales floor wasn't crammed with too much merchandise so instead you could actually view the item, not fight to find it. A small number of garment sizes were on the racks but there were many available and welcoming store associates to help you find the right size and they made sure you knew other sizes were on-hand.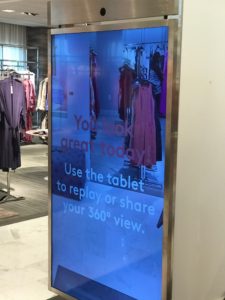 Personal or complementary items like hosiery and Spanx were available by the fitting rooms so you could try things on and get a better idea of how the garment would actually look on you.
Clearfork is the first Neimans location with a self-service or open-sell cosmetic counter. We loved how we could freely touch and feel products rather than the need for a salesperson. And when we did find something we liked, there was a store associate nearby to help us.
Just beside Cosmetics is the sunlight-filled, glass-walled Fragrance Room. It too is open-concept and highly interactive customer experience. We also liked that the fragrances were displayed and organized into fragrance category (i.e. Warm & Spicy, Floral, Men's, etc.).
In Texas, we're fond of Neimans' restaurants. At the downtown flagship it's the Zodiac Restaurant. Dating back to the days of Stanley Marcus it's the first in a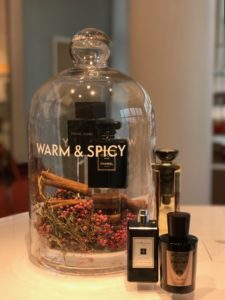 series of in-store restaurants that helped to establish Neiman Marcus as a fine dining destination. It's also one of downtown Dallas' top luncheon spots. We saw the same excitement for Clearfork's NM Café which is also the first store to have a separate bar area.
About the Clearfork location
Clearfork is a new open-air, mixed-use development in Fort Worth, Texas that will consist of upscale retail, dining, entertainment, office, green space and residential. The Shops at Clearfork is anchored by Neiman Marcus but there are tentative commitments from other upscale retailers including Tiffany & Co., Burberry, Tory Burch and Louis Vuitton.
At the time of our visit, people were already living in the new apartments at Clearfork however Neiman Marcus appeared to be the only retailer.
Did they succeed?
We think Neiman Marcus Clearfork succeeded in bringing together technology and retail smarts to create a superior customer shopping experience.  Given the timing of their latest announcement regarding poor results and exploration of strategic alternatives, it may be too late to turn the course but we do hope the best for this legendary Texas brand.
Further reading
Retail IoT – Roundtable on the Internet of Things 
New Neiman Marcus in Fort Worth built with tech and convenience layered on top of art and fashion 
Neiman Marcus, Dallas' iconic luxury retailer, puts itself up for sale