Extend beyond just printing
Longevity has always been the foundation of our 20+ year partnership with Epson.  Not only have we worked closely creating in-store technology solutions for retailers, we are also servicing Epson printers that we sold to one of our major clients in 1998. There's no other retail technology manufacturer that builds that type of investment protection in their products.
It gets even better.
Epson POS was one of the first manufacturers to integrate their printers with virtually any make or model of POS system including NCR, Fujitsu, HP, Dell, IBM, Toshiba. Connect-Ittm interfaces can be easily switched out, even at store level.  That means that a retailer can keep their Epson printer even if they migrate to a new POS system regardless of the connectivity required (WiFi, Bluetooth, Ethernet, Parallel, RS-232 or USB).  In fact one Tier 1 retailer recently changed the interfaces on their 75,000 Epson POS printers from serial to powered USB — huge savings over replacing their existing printer.
More than a printer company.
How does a printer manufacturer that builds longevity into their products stay in business? By being more than a printer company and that's not an easy undertaking.
With a word-wide install base of 5+ million Epson POS printers and over 30 years providing advanced retail technology solutions, Epson clearly is the industry leader. They keep that leadership with an ongoing commitment to innovation by consistently ranking among the top companies for number of patents awarded.
Recent Epson innovations include printing solutions for mobile POS and OmniLink intelligent printers that offer open platform mobility and peripheral connectivity that enable retailers to easily add mobile printing for line busting during peak business periods and control printing from mobile devices for up to 20 networked printers located throughout the store. In fact, a Tier 1 retailer has recently implemented Epson OmniLink as the backbone of their in-store mobility solution.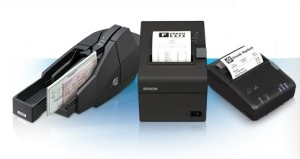 Partnering for superior solutions
"We really value our long-term relationship with Mainstreet," said Tom Kettell, director, Commercial Channel Sales at Epson. "We continue to offer a full line of mobile solutions and our collaboration with Mainstreet help retailers successfully meet the challenges and gain the advantages that are presented in the rapidly changing retail environment."
"Mainstreet has a 21 year history of providing rock-solid solutions for our retail clients, and we believe that you have to partner with solid manufacturers to provide core hardware offerings….Epson is one of those key partners of Mainstreet. We are delighted to be an Envision Partner to Epson and we take great pride in being in their Authorized Warranty Repair program as well" said Terry Kasen, Mainstreet's Vice President of Client Engagement.
What makes our partnership so effective?
We share the same business cultures with a focus on creating solutions that work best for each retailer's unique needs.  A quick hardware sale is not what we're about. Instead we build long-term partnerships with our clients.
We deliver immediate cost savings.  Epson POS has the lowest power usage in the industry consuming an average of 25 to 30+% less than its competitors' printers.  Paper savings of 25+% are achieved without compromising receipt readability or font size. Mainstreet drives a lower total cost of service without sacrificing performance or quality thanks to our board-level POS repairs that reduce whole parts usage, reduce scrap and extend equipment life.
We make it easy.  No matter the connectivity or operating system, Epson POS printers work 'right out of the box'. We customize the solution (at no additional cost) to include options such as product kitting, custom emulations, connectivity options, pre-loaded logos and graphics, asset tags, and more.
Together we have the solutions that can scale to most every budget and location within the store from traditional POS lanes, self-service, digital signage, in-store dining, pharmacy, customer service and specialty departments as well as back-office needs.
Comments or inquiries?  We'd love to hear from you. Send your email to info@mainstreetinc.net or give us a call at 469-733-1921.
If you're a DFW-based retailer, be on the lookout for an invitation to our Retail IT Executive networking event Thursday September 22nd at Lone Star Park in Grand Prairie.  Enjoy an evening of live horse racing, network with your peers and learn more about the innovative solutions that both Epson and Mainstreet design.
For more information about Epson and Mainstreet solutions, click here