Department stores have been declining for decades
Can they return to relevance?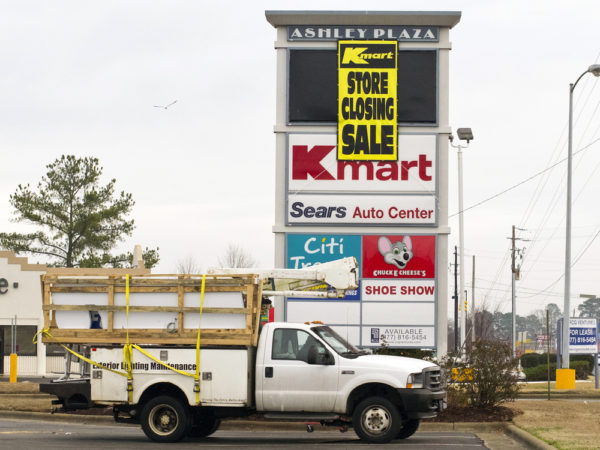 The plight of department stores is representative of far-reaching changes in our society: how we communicate, shop and interact with each other as well as the businesses we patronize. It is more than online shopping competition and closing stores. How did we get here? Are department stores lost forever?
Some seeds of extinction were sowed by the retailers themselves through corporate cultures stuck in the last century and decades of problematic deals.
Investor Edward Lampert purchased Kmart in 2002 and Sears in 2005 creating a combined chain of 3,500 stores. Immediately upon that deal's close, the company began to shutter hundreds of stores. Today the chain consists of only about 1,500 stores and even those continue to lose relevance as the retailer sells off assets in order to stay afloat.In the late 1980s, an erratic Canadian real estate developer named Robert Campeau acquired 2 major department store chains, saddled them with over $7 billion in debt and bankrupted them less than 2 years later.
More recently, JC Penney's attempt at reinvention in 2011 only served to alienate and confuse its loyal customer base. In ensuing years, the company replaced its executive leadership, returned to its previous pricing strategies and has wooed back some of its loyal shoppers.
What's happening today
Traditional department stores are one of the oldest U.S. retail segments with most of today's major chains rooted in the 1800s. While retailers across most every segment have been impacted by store closures, department stores are most gravely impacted – to the extent that their store model is becoming extinct, a suitable descriptor for a store format that has changed little in the past 30…possibly even 50 years.
Department Stores, Years Founded: 1826 Lord & Taylor; 1852 Marshall Field's; 1858 Macy's; 1872 Bloomingdale's; 1877 May Co.; 1886 Sears Roebuck; 1901 Nordstrom; 1902 J.C. Penney; 1907 Neiman Marcus
Maria Halkias, reporter for the Dallas Morning News, discussed some of the underlying causes for the devastation in the segment:
Apparel purchases are down 50% from 30 years ago as business-casual becomes the norm for most businesses
Baby boomers spawned the growth of department stores in the latter decades of the 20th Those boomers have turned their focus to diversionary spending such as leisure and travel.
Brands have become more powerful, decreasing their reliance on department stores and gaining greater control of their brands by going direct to the consumer.
The Looniest Deal Ever
In 1986, Robert Campeau set his sights on getting into U.S. department store retail. The segment's linkage to Real Estate sparked his interest. With department stores as anchor tenants in shopping malls, he could open new malls and exclude stores he didn't own. Campeau's gateway was the 1986 acquisition of Allied Department Stores which included such banners as Ann Taylor, Bon Marche, Brooks Brothers, Jordan March, Maas Brothers and Stern's.
Campeau then purchased Federated Department Stores in 1988 – parent company of Bloomingdale's, Filene's and Abraham & Straus. In doing so, he saddled the company with $7 billion ($14+ billion in 2015 dollars) of highly-leveraged debt. Profits couldn't cover the staggering interest payments, creditors demanded relief and Federated was thrown into bankruptcy in 1990. "The leveraged transactions were conceptually an appropriate attempt to centralize the structure of the industry but their execution was not possible under such extreme financial distress", Professor Steve Wood PhD, Research Director Surrey Business School Faculty of Arts and Social Sciences, University of Surrey, UK, wrote in his research paper titled "Reinterpreting the great U.S. department store bankruptcies of the 1980s".
For many years after Campeau's failed acquisition, Federated lumbered in a weakened condition as management divided its attention between keeping the business afloat and trying to emerge from bankruptcy. Federated (now Macy's) was unable to make significant investments in its stores for several years.
A segment defined by consolidation
Macy's embodies the history of department stores. Rowland Hussey Macy (R.H. Macy) opened a small dry goods store in Manhattan in 1858 which he grew to a full-fledged department store some 20 years later. Having outgrown that storefront, in 1902 Macy's moved uptown to its current Herald Square location. An expansion of this location in 1924 created what was considered at the time to be the world's largest store — more than 1 million square feet of retail space. The company went public around this time and embarked on a strategy of opening regional or satellite stores as well as acquiring competing retailers.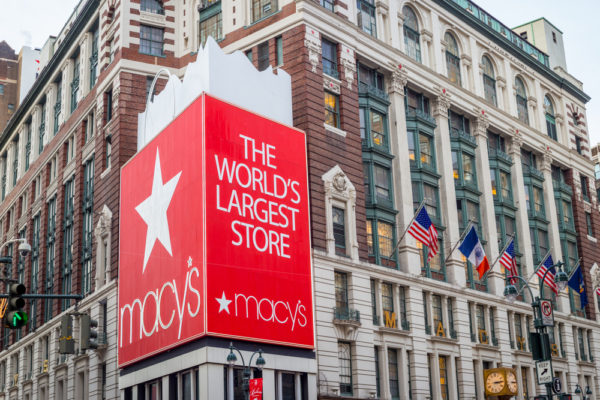 Many other department store retailers adopted this acquisition strategy as a means to remove competition and benefit from the economies of scale made possible in a larger, more centralized organization.  Consolidation meant combining smaller chains into regional players, and regional players into nationwide store networks.
Today's Macy's is the result of the 2006 combination of Federated Department Stores and May Company, which upon acquisition date was made up of 941 stores and almost 24 banners. Shortly afterwards, most all banners were changed to Macy's.
And thus the blanding of department store retail was officially in place as regional players/banners with brand equity in their home markets became neutralized to one consistent footprint and, with few exceptions, product assortment. In doing so, the entertainment of shopping gave way to a generic, humdrum in-store shopping experience that many consumers declined in favor of online shopping as well as frequenting smaller stores with a more focused, curated offering.
1960s rise of discounters
Discount department stores emerged when the post-war population began its move to the suburbs and shopping malls became more prevalent. With the early 1960s came the birth of Kmart, Target, Walmart and Kohl's. Together these retailers today have a combined 8,372 U.S. stores: Walmart 4,672; Target 1,806; Kohl's 1,160 and Kmart 734 (down from its year 2000 peak of 2,171 stores).
In the early 1990s, Walmart embarked on an aggressive campaign to expand its store base beyond rural stores primarily in the U.S. South to nationwide more urban locations and with an enlarged superstore footprint combining a traditional Walmart with a grocery store.
How were the traditional department stores responding? Stanley Marcus in a 1997 interview with the New York Times commented that in the 1960s, it was controllers, not merchants, who ran their stores.
Economic Downturns
We've experienced 2 major economic downturns within the last 30 years. The first occurred in the late 80s/early 90s. The second was the Great Recession (December 2007 to June 2009) considered the longest recession since the Second World War. In fact, many consumers have kept some of the spending habits learned from the Great Recession and are not reverting back to their old ways that built credit card debt.
U.S. Retail Stats
The number of shopping centers in the U.S. for the 20-year period ending in 2015 grew by more than 23%. Compare that with 14% population growth for the same period.
Per capita retail space in 2015 was almost 25 square feet, compared to 2.5 square feet in Europe.
It's predicted that one third of the nation's 1,100 enclosed malls in 2016 will fail in the coming years.
Cushman Wakefield reports that mall visits are down 50% from 2015.
The decline of shopping malls can be tied to the failure of their anchor stores like Macy's and Sears. Those closures can also trigger co-tenancy clauses which allow remaining tenants to terminate or renegotiate their leases challenging the mall operator to find a new anchor tenant. Discounters like TJ Maxx, along with movie theatres and health clubs are some of the new anchor businesses.
Returning the stores to relevance
Department store retail isn't just about store closures. Recently to encourage shoppers to return to their stores, a few retailers announced alternate plans to retool and invigorate brick-and-mortar with engaging in-store shopping experiences, curated merchandise assortments and off-price options.
Macy's new CEO announced several initiatives to respond to changing shoppers' preferences, to help differentiate its merchandise assortment and to return its stores to relevance.
Simplify coupons by adopting a strategy similar to Kohl's where the shopper receives an offer of $10 or $20 (or more) against their purchase rather than publishing coupons for specific products with a long list of exclusions. This also will be favorable to brands as their products will not be directly discounted when tied to a specific coupon.
Expand in-store boutiques with brands like Apple, Best Buy and Sunglass Hut. This creates a more differentiated product assortment, improves merchandising and provides a concession-type model that reduces some of the risk for Macy's as the brands would be responsible for outfitting and running their respective in-store boutique.
Expand private label products to increase differentiation in product assortment and create exclusivity.
Give shoppers more off-price options both in-store through dedicated clearance space on the sales floor as well as standalone stores branded under the Last Act banner.
Increase focus on beauty by expanding its private-label line of beauty products and expand exclusive items as well as opening more of its Bluemercury stores.
Give shoppers more self-service opportunities in areas such as the shoe department.
Earlier this year, Kohl's announced that it would downsize rather than close stores. The closure of stores in 2016 didn't produce the results they expected – only a fraction of sales from closed stores shifted to nearby Kohl's locations, accompanied by a reduction in online sales. The merchant also views stores as essential part of its online business since stores can be used to fulfill online orders which can be picked up at the store or shipped direct to the consumer.
Because it owns or has ground leases in about 50% of its 1100+ stores, Kohl's has more flexibility to downsize locations and can rent out that space to other businesses. Downsizing reduces investment in fixtures, inventory and staff.
Kohl's also is rolling out Under Armour boutiques in its stores and has plans to better gear the merchandise mix to local stores. Getting fashion to market is also a focus as they compete with fast fashion merchants like H&M and Zara.
Are department stores lost forever?
I'm a baby boomer, a once loyal shopper of traditional department stores. Until about 10 years ago. Business casual has reduced my apparel spending and what I do purchase is usually done from my iPad® on sites like Amazon and H&M. Department stores no longer interest me. There has been little change to the shopping experience since the 1980s; merchandise and merchandising holds no excitement; coupons seem to exclude the brands I want; and a trip to the mall is a nuisance, not entertainment.
When I began to write and research this paper, I felt that not only were the retailers responsible for much of the devastation in their industry but also that consolidation removed the regional brand equity, personalization and shopper loyalty.
I would like to thank Professor Steve Wood who in an interview reminded me that in all likelihood traditional department stores could not have survived as they were during the last few decades of the 20th century. Given the competition of discounters and an over-stored retail landscape, they could only survive with consolidation and the ability to retool their organizations that Chapter 11 afforded. A natural evolution.
In conclusion, the traditional department store model is lost forever. It's no longer relevant in a time in which mass personalization is the prevailing retail model; the target demographic has reduced spending; online shopping continues to gain popularity. Today's consumers are driven by low prices, convenience, an entertaining shopping experience or a curated, niche-focused product assortment such as Sephora or Ulta. The current traditional department store can't deliver that.
But if retailers like Macy's and Kohl's are successful, a pared-down store network and an immersive in-store shopping experience could emerge.   
Department stores have the theater to do so.
Thoughts or comments on this topic? I'd like to hear from you. Email me at dsimurda@mainstreetinc.net