Retail mobility enables side-by-side interactions that transform the in-store shopping experience
Guest blog from our mobility partner, Janam Technologies LLC.
Our thanks to Harry Lerner, Janam Co-Founder and CEO, for the great insights into how retailers are optimizing in-store mobility to drive traffic back to brick-and-mortar stores, enrich the shopping experience and enhance associate productivity.
Transforming the in-store experience
Online sales continue to represent a growing percentage of total retail sales, rising from 2.8% in 2006 to approximately 7.5% in the fourth quarter of 2015 (source:  US Department of Commerce). As online shopping has become ubiquitous and consumers have become well informed, a positive in-store shopping experience is more important than ever.
To increase traffic in brick-and-mortar stores and convince customers it is worth the trip off their couch, it is critical for retailers to offer something unique.
Many retailers are differentiating themselves by deploying enterprise tablets. These mobile devices are often the key to customer engagement and provide an in-store experience that cannot be replicated in the online realm.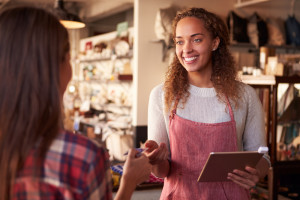 Mobile retail tablets are revolutionizing the in-store environment by arming retailers and their associates with specific details on customer needs and shopper history. For example, tablets equip associates with information on products and sizing, display available inventory and show a snapshot of customer purchase history and involvement in loyalty programs. This allows store associates to engage deeply with shoppers, ultimately creating a unique and seamless in-store experience – even 'save the sale'. Retailers can further interact with shoppers by offering suggestions on items that would complement a particular product and providing feedback from their own experience.
Retail mobility in-store
Gift registry is yet another niche transformed by tablet use. Retailers are creating apps specifically for this purpose by allowing customers to scan barcodes of products they like, rank these items in an organized list and view purchases of items in real time. All of this information is then uploaded to a custom online registry page that can be shared with friends and family. Overall, these devices are providing a more efficient and valuable means of communicating with and catering to customers than ever before.
In addition to the uses mentioned above, many retailers are connecting with customers by installing tablets in store dressing rooms. This enables shoppers to search for additional sizes and styles of a particular product and look up reviews on an item. In return, retailers can implement a two-way dialogue encouraging customers to sign up for loyalty programs and newsletters, and follow them on social media. Customers can even use tablets to summon a sales associate from their dressing room.
On the other end of the spectrum, tablets give retailers the ability to tighten business operations through close inventory management. Retailers can make quick decisions to restock popular items, automate shipping and receiving orders and precisely locate products in the store. The result is a better in-store experience for shoppers.
Retailers also use tablets as POS devices to effectively reduce wait times. These products replicate the technology of a cash register, acting as an inventory checker and tracking customer purchase history. This creates an efficient and effortless checkout process that will ultimately improve customer satisfaction.
Optimal tablets for retail mobility
When it comes to choosing an optimal tablet for the retail environment, it is critical to make sure it has the right features to support the tablet's target uses.
Companies want retail mobility tablets that are incredibly light but also rugged, offer high performance barcode scanning for efficient inventory management, and are embedded with the latest technology including RFID and NFC capability.  Tablets with these features allow for streamlined business operations and enhanced customer engagement that will lure shoppers out of their houses and into retail stores.
Key research findings
78% of retailers planning to make a new mobile POS decision by mid-2016
The top three in-store hardware investments for 2016 are mobile POS hardware (35%), digital signage (31%), and printers (29%)
Year of the mobile-equipped associate.  
About Janam
Janam Technologies LLC is a provider of rugged, handheld computing devices for mobile workers.  Janam combines deep industry knowledge with advanced technologies to deliver products and accessories that increase productivity, reduce costs and improve customer satisfaction.  Specializing in purpose-built mobile computers that scan barcodes and communicate wirelessly, Janam offers products that are designed to run mission-critical applications in retail, healthcare, hospitality, manufacturing and logistics.  For more information, visit www.janam.com
Other blog posts
https://mainstreetinc.net/mobile-systems-boost-retail-stores/