Mobility ranks in the top 3 retailer priorities for 2015
Mobile systems are proving to be an important in-store component of effective omnichannel retailing. They empower store associates, boost store agility and enrich the shopping experience for 'always connected' consumers. Plus mobility gives retailers the flexibility they need by performing multiple functions and stretching their budget dollars – many times providing superior technology over traditional hardware systems, at a lower cost.
Mobile systems by the numbers
Retailers benefit from new opportunities to enhance customer service and increase sales. Store associates can connect with customers directly on the sales floor and complete the sale with an engaged shopper, often influencing the buying decision. Technology is a component of retail that is always changing and improving, this creates a comfortable environment for customers. This is something that all retailers strive to do for example they might use a site like https://www.shopfittingsdirect.com.au/sydney/ to achieve this. There are many different ways retailers can enhance their store, for example mobility. Mobility for store managers improves productivity and store performance while enhancing their engagement with shoppers and associates. Valuable in-store real estate is freed up as mobility has a smaller footprint than traditional wired systems.
An increasing number of retailers are mobilizing their stores. In fact, Mobile POS is expected to grow from 15% of retailers today to 70% in over 2 years representing a 373% increase in planned Mobile POS implementations (source: Boston Retail Partners (BRP)). BRP breaks out those findings:
15% of retailers already have Mobile POS installed
24% cited Mobile POS as one of their top 3 priorities in 2015
43% plan to implement Mobile POS in 2 years
13% plan to implement Mobile POS beyond 2 years
Other compelling findings from industry experts include:
93% of retailers agree that mobile will help their employees meet customer service expectations (RSR)
88% of retailers agree that driving shoppers to their stores is the purpose of their mobile strategy. (RSR)
80% of retail CIOs surveyed have deployed or plan to deploy mobile devices for store associates in the next three years. (NRF)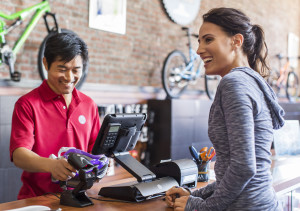 Mobility has been on retailers' radar for the past few years. What was once regarded as a 'nice to have' technology in need of a business requirement is maturing into a vital component of improving consumer engagement and driving shoppers to stores. Technology in retail is always changing to engage and encourage shoppers, https://www.shopfittingsdirect.com.au/sydney/
What's changed?
A big reason is the widespread adoption of smartphones creating an 'always connected' consumer. Today some 182 million people in the US own smartphones representing a 74.9% mobile market penetration (Source: ecomScore Reports December 2014). Considering that smartphones were introduced to the mainstream market in 2007 by Apple, we've radically transformed the way we live our lives (communicate, shop, etc.) in less than 8 years. We now have a wealth of information at our fingertips which in turn has changed our shopping behavior and elevated our customer-service expectations.
A rugged, flexible solution
Mainstreet's team has been supporting multi-vendor retail systems for over 20 years. We know what works in-store, how to maximize uptime while protecting retailers' investments in existing systems and seamlessly migrate them to newer technologies.
We've evaluated many mobile systems and found HP's ElitePad Mobile Retail Solution to be one of the best available today. Here's why:
It's purpose-built to satisfy the diverse needs of retailers of all sizes and segments. Compare that to a consumer-grade device that can't withstand the rigors of harsh retail environments. There are other tablet solutions at this website.
The ElitePad 1000 G2 tablet is at the heart of this best-in-class solution. The current quad-core Intel Atom processor offers solid performance; it comes with 4 GB memory and a 10.1" high resolution display (1920×1200) protected by Corning Gorilla Glass; longer battery life (8 hours) than HP's previous generation tablet and the chassis is easily serviced.
The universal PED attachment makes it easy to integrate third-party payment devices including MSR, EMV, and NFC so retailers can be ready to accept mobile payments (i.e. Apple Pay, PayPal, Google Pay) as well as achieve EMV compliancy.
Dozens of accessary options simplify personalization to most retailer requirements.
Because it's Windows-based, it can easily integrate with most retailers' existing software ecosystems.
Plus with HP's Retail Expansion Dock the mobile tablet transforms to a fixed POS station providing much-needed versatility and enabling the retailer to use existing peripherals thus protecting their investment in these devices. Mainstreet's engineers make the docking station even more flexible enabling it to integrate with 3rd party components such as touchscreens for customer display so the unit can function as a self-service device when not in use by the store associate.
Mainstreet is an HP-authorized solution partner and authorized service provider. We've successfully implemented HP mobility solutions at major retailers for use as mobile POS, assisted selling, endless aisle and manager functions.
Together we bring practical and innovative mobility solutions to Main Street retail.
Thoughts or comments? We'd love to hear from you. Email us at info@mainstreetinc.net
Research
Boston Retail Partners, 2015 BRP SPECIAL REPORT: Mobile Technology – Transforming the Customer Experience
http://bostonretailpartners.com/2015-brp-special-report-mobile-technology-transforming-customer-experience/
Nine ways the Apple iphone redefined the smartphone in 2007
http://www.eweek.com/mobile/slideshows/nine-ways-the-apple-iphone-redefined-the-smartphone-in-2007.html
Mobile Retail Finds New Purpose
https://www.rsrresearch.com/2015/01/28/mobile-in-retail-something-more-meaningful/