We've all experienced and benefitted from hybrid grocery as many grocery shoppers are embracing the ease of online ordering with a mix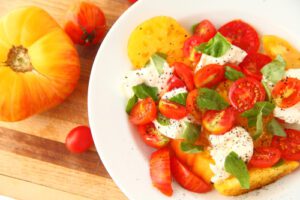 of click and collect / curbside and home delivery for how we receive our groceries. For most, non-perishables like center store items are ideal for online ordering while we prefer doing our own in-store shop for perishables. A can of Cento San Marzano Peeled Tomatoes doesn't vary in quality but for the fresh items you want to use in your Caprese salad, you'll probably want to pick out your own beautiful heirloom tomatoes, fresh basil and buffalo mozzarella cheese yourself.
That's no problem for most every grocer today to help you with. Order your non-perishables online, then head to the store and before you pick-up your curbside order, stop in the produce department and select your own produce to your exact standards. Head to the cash, or mobile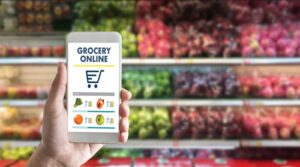 POS pay for your produce then head over to curbside to pick up the rest of your order.
Hybrid Grocery
While most of us have adopted a hybrid grocery model for how we shop, pay and take delivery of our groceries, this Hybrid Grocery model goes even further as grocers look to adapt their business to the continued increases in online shopping.
Micro-fulfillment centers can be created by converting a portion of the store's perimeter (or adding a section onto the back or side of the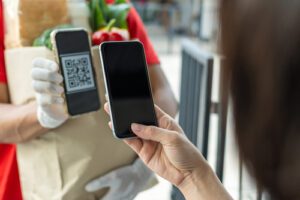 store) into an area where associates can pick non-perishables for online orders. As this area is for store associates only, it can be optimized to the best workflow.
Dark stores – converting old non-profitable stores into dark stores for online order fulfillment only. These too are not open to the public and can be configured to optimize workflows.
The strategy for Hybrid Grocery requires an even greater focus on technology. That especially rings true when you consider that curbside pickups, home delivery, and changes in shopping preferences and behavior will require a continued reassessment and a refresh of grocery IT systems, software, and devices.
Where Grocers Invested During Covid
During the pandemic, many stores were forced to respond and react as best they could, as quickly as they could, by leveraging their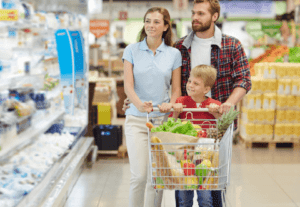 existing IT infrastructure and systems to support new or expanded offerings in e-commerce, curbside pickup, or delivery. Others scrambled to make quick, manageable investments in new systems and solutions to support safer and more convenient shopping for their customers, both online and in the store.
But now the question is whether grocers have the right technology strategies and infrastructure for the long term. Moving forward, they'll need to support a hybrid blend of service models, channels, and conveniences, and each of these offerings will need to be optimized by technology to meet customer expectations for convenience.
In fact, a few recent indicators show just how important technologies will be in this hybrid world of digital and in-store grocery shopping.
Important Stats and Trends Every Grocer Should Know
Over four times as many consumers say they plan to shop more in a grocery store in 2021 versus those who plan to shop less. While 51% say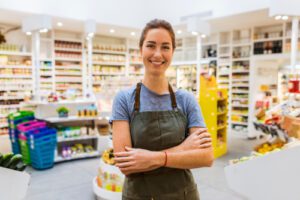 they'll shop in-store at the same rate they do now (includes millions of shoppers who are now ordering for curbside pickup or delivery as opposed to shopping in stores.)
In fact, by 2025, annual online grocery sales are expected to grow to $250 billion or 21.5% of all U.S. grocery business.
In a survey of 2,250 consumers, The Feedback Group's Grocery Shopper Intention Monitor found that preferences for in-store shopping vary across demographic lines – urban consumers are the most likely to say they plan to grocery shop more often in stores in 2021 (44%), while the proportions of those in the suburbs (40%) and those in rural areas (34%) who say they'll shop more in store is considerably lower.
Numbers from the same survey that show that 29% of rural shoppers and 32% of suburban shoppers plan to purchase groceries online more often over the next 12 months than they have previously.
Why Grocers Should Be Thinking About Hybrid Technology Strategies
The latest consumer stats and trends point to how important it will be for stores to optimize both their digital as well as their in-store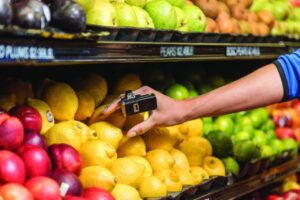 offerings and services for customers.
This is where smart, hybrid technology strategies will help grocers create the flexibility and adaptability they'll need to respond to changing consumer behavior and expectations. For example, it might mean upgrading to a new or improved point-of-sale system with order and inventory management to better support e-commerce, curbside pickups, and home deliveries as well as in-store orders.
It might also mean deploying multi-purpose mobile technologies that allow store staff to perform different roles when needed, such as using the same tablet or mobile device to scan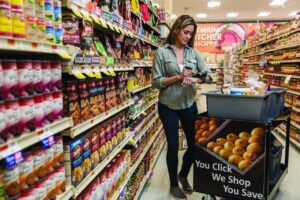 and manage inventory, provide in-aisle mobile customer service, scan items to fulfill an e-commerce order, or pull up and confirm an order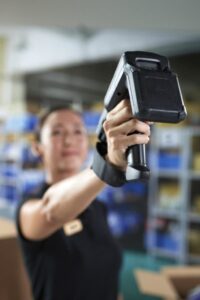 to manage a customer's curbside pickup outside the store. Mobile computers, tablets and mobile printers as well as wearables are ideal for these applications. 
Some grocers might also consider installing new convertible checkout lanes that can quickly convert from a traditional cashier-driven process to a self-checkout whenever needed.
Those who are building out micro-fulfillment centers or dark stores for dedicated e-commerce fulfillment might take a closer look at wearable technologies such as mobile computers, head-up displays, and mobile printers to keep workers' hands free while they pick and scan items to create more efficient order fulfillment processes.
Exploring and Determining the Right Moves for Your Stores
With recent innovations in grocery technology, there are many different ways to support a hybrid service model, improve operational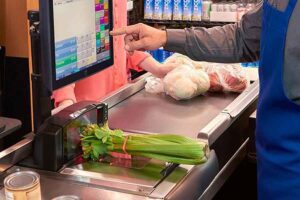 performance, and solve specific business challenges. The key is to do the strategic work of analyzing and identifying what your customers will need and expect, how your stores can best respond, and which technologies can potentially help you do that in the most economical and effective way.
It's a process we've been helping many of our clients navigate by providing guidance, planning, and the right solutions for their unique business needs, and we do it in conjunction with our grocery technology partners such as Zebra, HP, and Epson. While a more digital and technology-driven approach is new or unfamiliar territory for some of our customers, it's also an exciting opportunity to learn from what's happening in stores and across the industry. Moreover, it's an opportunity to step back, reassess, and then take the right steps forward to help your business grow and thrive in the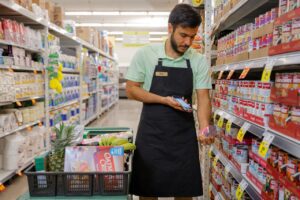 future.
If you want to be ready for the new future of grocery and build your plan for growth and success, contact our experts at Mainstreet to start a conversation. We'll provide advice and insights based on a wealth of proven and innovative ideas and solutions from across the industry, and we'll work together with you to determine the best overall technology strategy for your business.