Over the past few years, the National Retail Federation (NRF) has done something innovative with its annual Big Show technology conference. They curate the top retail stores to visit in NYC that offer experiential retail experiences. Attendees can check them out either through guided or self-guided tours.
Imagine that. Experiencing actual retail stores as part of a retail conference. Genius.
We devoted one of our NRF 2018 days to visit about 15 of the recommended stores. From pop-up stores to store-within-a-store to stores-as-gathering-places, we came away even more jazzed about the how very important brick-and-mortar is to the shopping experience and how it will continue to be for many years to come.
While the formats and merchandise mix may have been different, there were a few unifying traits that contributed to the excellence of these stores:
They picked a niche and focused on it.
Welcoming and helpful store associates were plentiful.
Offerings were curated. Racks and displays weren't crammed with merchandise.
While there was advanced technology at work, it wasn't so obvious that it detracted from the shopping experience.
For many of the experiential retail stores, there was less focus on selling stuff and more on the store as a community, as a gathering place where we could try out and enjoy the brand.
Doesn't seem to be too leading edge does it? Just some old school retail smarts coupled with the wisdom to lean into change. None of these guys are stuck in the 90s.
Here's one of our favorites.
NRF Categories | personalization | curated merchandise | brands going retail |
You could say that MM.LaFleur is Trunk Club for professional women but it's a lot more. Their philosophy is to "make the purposeful woman look and feel beautiful, without having to work too hard at it." And they're revolutionizing work wear with "function, cut, fabric, fit and that extra something special."
The MM.LaFleur Lower Manhattan showroom is located on the fifth floor of an office building on Broadway. We had to sign-in with the security guard in the lobby which made us feel rather exclusive.
Even though the showroom was getting ready to close for the day, we were warmly greeted by Genevieve and when we explained they had been recommended by the NRF, we were given a tour of the showroom and intro to their business.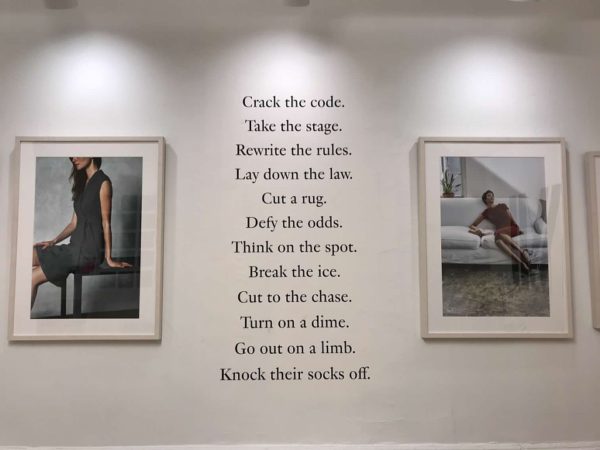 MM.LaFleur makes sophisticated, timeless and well-priced business apparel for women. Being vertically integrated means they offer a truly unique experience and unique clothing ranging from sizes 0 to 22W so they fit most everybody.
Based on your size and preferences, your dedicated stylist will create a Bento Box of four to six wardrobe staples that will be ready for you upon arrival at the showroom. The showroom is experiential retail at its best. It feels like you're visiting a friend's downtown loft. It's warm and inviting so you can relax and work with your stylist who will help you with personalized tips about your outfit. Once you decide on the looks or pieces that work best for you, the items you purchase are shipped directly to your home or office, free of charge.
And if you don't have an MM.LaFleur showroom nearby, you can still work with your personal stylist who'll curate Bentos for you whenever you like. Even better, it's not a subscription service so there's no commitment.
We'll Feature More Experiential Retail
In upcoming blogs we will feature details of our visits to experiential retailers Glossier, B8TA, Amazon Books, Adidas Brand Center, Levi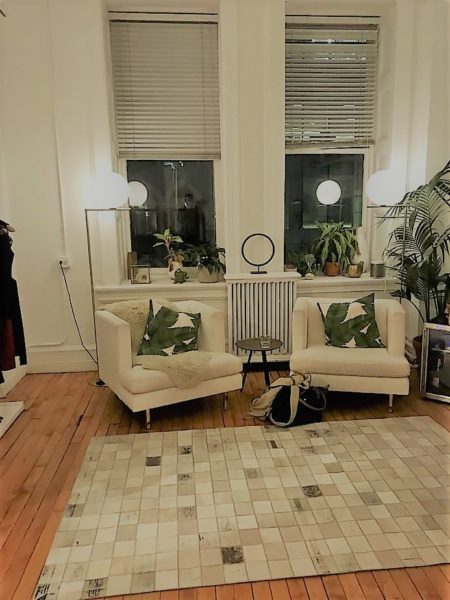 SoHo Flagship, Samsung 837, Lululemon Mindfulosophy and more.
Feedback or comments? Or were you able to visit a few of those experiential retailers while at NRF? We'd love to hear from you.
I write about retail, technology, trends and disruptors.
About the author:  Debbie Simurda has been closely involved with the retail industry for more than 30 years as both a retailer and technology provider. She is a passionate student of retail from Tier 1 national retailers to small independent merchants. She has earned an MBA and BA in economics from the University of Ottawa. She is currently Vice President of Business Enablement for Mainstreet Inc. and previously worked with IBM and Systech Retail Systems. Debbie and her husband live in Dallas and are the humans for their 2 rescue dogs Maddie and Jake.