New concepts, new markets
Smart retailers are evolving their brick-and-mortar store concepts to more effectively compete against ecommerce, respond to changing US demographics including urbanization and the increased buying power of Millenials.
Why is brick-and-mortar still important?  We think that L Brands CEO Leslie H. Wexner, in a recent article published in Retail Dive, said it best:
The importance of physical stores "is way bigger" than the Internet for retail.  A 'muscular brand' will bring web sales naturally.  He maintains that stores will remain important because humans want to be – and shop – together.
Here's what smart retailers are doing to continue to refine their store concepts and deliver relevant, effective formats including Starbucks, Whole Foods, Lowe's, Target, Forever 21, Macy's, Kohl's, Ahold, Restoration Hardware, Urban Outfitters and Kroger.   For many, effective store concepts are smaller retail footprints geared to accessing the under-served urban market.  For a few like Urban Outfitters and Restoration Hardware, the optimal format is 'experience retail', a massive space that enables them to showcase their curated collections, offer a broad range of services, dining and create a community.
Starbucks, new Express concept
Starbucks debuted its Express store concept across from the New York Stock Exchange at landmark location, 14 Wall Street — one of the city's early skyscrapers dating back to 1912.  With a footprint of 538 square feet, the pilot concept is Starbucks' most streamlined experience giving on-the-go customers what they want, quickly.
Starbucks continues to evolve its store formats.  In addition to Starbucks Reserve Roastery and Tasting Room; Reserve locations; neighborhood cafés; and drive-thru formats.
365 by Whole Foods
Whole Foods describes its new 365 by Whole Foods store concept as putting 'big ideas in a smaller footprint that brings fresh, healthy, affordable food to people in more places, every day'.   The lower-priced, smaller footprint format is geared primarily to millennials with a greater emphasis on technology and social media than Whole Foods' traditional stores.  Whole Foods plans to open 5 new concept stores in the latter half of 2016 with metropolitan locations ranging from the Pacific Northwest to California to Texas.  Openings may double in 2017.
Lowe's new urban store concept
Manhattan's upper west side is home to Lowe's first urban-format store.  Because the footprint is 25% of a traditional Lowe's store square footage, effective utilization of space is critical.  The merchandise assortment is specifically geared to the unique needs of city dwellers including smaller home goods, moving supplies and home organization.  Delivery options include same-day delivery and BOPIS.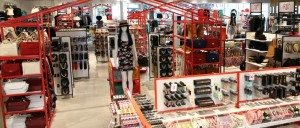 F21 red by Forever 21
Forever 21's F21 red store concept responds to shoppers' demands for a broad assortment of Forever 21 staples at a lower price and an easy shopping experience for the entire family.  The concept makes it possible to stock a deeper inventory of options and makes F21 red a natural fit for power centers and similar locations.  Forever 21 debuted F21 red in 2014 and plans to have about 35 locations by the end of 2015, including some international sites.
Kohl's
Kohl's three-year turnaround plan includes adding smaller format Kohl's stores that will be 50% the square footage of its traditional stores.  A smaller footprint will enable the retailer to extend its reach to urban as well as less populated areas.  We may also see more outlet stores, including its Fila brand.
Macy's Backstage
Backstage is Macy's off-price concept similar to Nordstrom Rack, Saks' Off Fifth and Neiman's Last Call.  Macy's will test the Backstage concept with the opening of 4 locations in New York this fall.  With a store footprint averaging 30,000 square feet, the new concept offers an abbreviated selection of discounted apparel from the traditional department stores plus new brands and merchandise.   Competition is fierce in the discount segment not only Macy's traditional department store competitors but off-price merchants like T.J. Maxx, Burlington and Ross.
Beauty and spa is another new format for Macy's with its recent acquisition of Bluemercury — a 60-store chain of higher-end beauty/spa locations with a growing e-commerce business.  Cross-over opportunities include opening Bluemercury boutiques in some department store locations and extending Macy's current cosmetics offering to include higher-priced items.
Ahold's bfresh store concept
Ahold's new concept, bfresh, debuted this fall in Boston (Allston) and Fairfield, Connecticut.  At 10,000 square feet bfresh is a small-format store that offers an abbreviated grocery selection and high-quality foods 'to go'.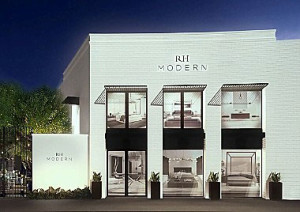 Restoration Hardware's RH Modern
RH Modern is Restoration Hardware's new luxury retail concept store geared to what RH considers a fragmented luxury furnishings market.   The new concept stores launching this fall will be six to eight times the size of traditional stores and feature the retailer's extensive selection of modern-design home furnishings.  RH Modern will also have dedicated space in about 20 traditional stores.

Urban Outfitters' Spaces concept
Urban Outfitters defines its Spaces locations as bringing together retail, dining, events, pop-ups and artist collaborations to create gathering places curated specifically for the local communities they serve — Los Angeles, Williamsburg NY (Brooklyn) and Austin – giving customers an experience they can't get online.  To further differentiate the Spaces experience, Urban Outfitters is teaming with some of the nation's best chefs to bring an exceptional dining experience to its new lifestyle concept shops.
TargetExpress
Target now has flexible formats available for its new store portfolio.  Target piloted its small footprint, Express, in early 2014 and its medium-sized CityTarget concept some 18 months prior.  Today, there are about 20 of these locations in total.
Recently Target announced its plans to open a TargetExpress in Manhattan (Tribeca).  As with its sister locations in downtown Boston and San Francisco, the product assortment and services will cater to local needs including products geared to apartment living, BOPIS as well as 'grab and go' food options.
Kroger tests hypermarket-style & goes urban
Kroger has opened a new concept store near its headquarters in Cincinnati, Ohio. The location — the company's second largest ever — includes everything from gourmet food to housewares, extensive apparel collections, a growler bar with craft beer and a wine bar.
Kroger's recent acquisition of Roundy's, and its Chicago-based Mariano's Fresh Market superstores provides access to a successful urban concept that it can learn from and expand into other growing urban markets.
Impact of Technology
Technology is a vital component in the success of brick-and-mortar differentiation and creating a superior customer experience, for every store concept.  Our next blog in this series will feature how retailers are making the most of their technology investments.

Thoughts or comments? We'd love to hear from you. Email us at info@mainstreetinc.net
Sources:
Evolving brick-and-mortar, new retail concepts
The importance of brick-and-mortar retail
L brands CEO, Brick-and-mortar is bigger than the Internet
What is the future of brick-and-mortar retail stores?
Starbucks new concept store: an 'espresso shot' of a store experience
Cheaper Whole Foods '365' stores will be hipster havens
2 reasons Whole Foods smaller stores could be a success
Sneak Peak: Lowe's new NYC urban-format
Insights: Focus on Forever 21's new format, F21 red
Target finally bringing its small-format urban stores to Manhattan
Macy's Backstage bargain stores coming this fall
The new retail edict, close stores or make the new ones smaller
Smaller formats finally underway
Restoration Hardware new luxury retail mantra