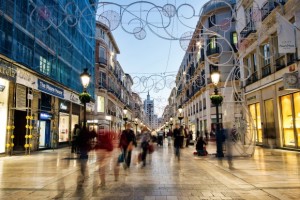 'The 80's called.  They want their store back' so says Radio Shack's Super Bowl 2014 commercial – one of the top ad spots for the evening.
While it was fun to watch the ad with all its big hair and bad clothes of the 80's, it can also be a telling comment for the state of several of today's retailers.  They may not all have roots in the 80's but they demonstrate the consequences of failing to keep pace with a fast changing, consumer-empowered retail climate.  In addition to Radio Shack, some of the notable retailers impacted are Toys R'Us, Blockbuster, Children's Place, Sears, Staples, DOTs, Barnes & Noble and most recently:
Consumer gadget merchant, Brookstone, has filed for Chapter 11 bankruptcy and has recently announced it will sell itself to Spencer Spirit Holdings, owner of the Spencer's – a retail chain of 600 stores in the US and Canada that sells clothes and accessories geared toward 18-24- year-olds.
Coldwater Creek filed for Chapter 11 bankruptcy on Friday and plans to go out of business as it was unable to find a buyer.  The company will begin going-out-of-business sales in May and close all 365 of its stores.
In her recent blog reviewing Q1 2014's major store closings, Barbara Farfan provided some insights into why some retailers are failing:
Loss of clear identity
Lack of retail relevance
Stuck in the past
Too big to be nimble
Little engagement in social media spaces
Not enough presence where target markets are looking
No magnetizing customer experience
Not much unique or extraordinary product offerings
Not much worth talking about
Nothing for fanatically loyal customer advocates to latch onto
What's encouraging is that there has been increased coverage over the past several months about the importance of brick-and-retail.  Consumers of all ages want physical stores to be part of their shopping options.  Even e-retailers like the innovative eyeglass merchant, Warby Parker, have plans to open physical stores.  There are also reports that Google is looking to open a flagship store in Manhattan, likely very close to an Apple store.
A few noteworthy new concepts from established brick-and-mortar retailers as they evolve to meet the needs of the changing retail climate:
Walmart and Kohl's are a few of the big box retailers branching out with smaller footprint, urban stores.
Family Dollar is expanding its food assortment with the introduction of 400+ new food items for all of its stores.  As part of the new food rollout, they are holding several special events including collaboration with a celebrity chef.  To further demonstrate its commitment to continue refining its business, Family Dollar also      announced that it is closing 370 underperforming stores, lowering the prices on 1000 of its basic items and will be slowing its 2014 new store growth (350 to 400 stores down from approximately 525).
Nordstrom has debuted BaubleBar pop-up shops in 35 of its stores and online.  BaubleBar is an online retailer of jewelry targeted to younger shoppers.  These are the same younger shoppers that Nordstrom targeted in its collaboration with fashion-forward U.K. based retailer TopShop that began in late 2013.
DSW's parent, Affiliated Business Group (ABG), has entered into an agreement with Yellow Box Footwear that distinguishes ABG as its exclusive retail operator.  Yellow Box is a leading women's and girls' footwear wholesaler with a loyal customer base.  Today Yellow Box footwear, including their iconic jeweled sandals, is sold through various retail chains as well as their own web site.  With the new agreement, DSW will operate stores under the Yellow Box banner with plans to open 3 to 5 stores in premier shopping destinations this year.
Earlier this month, Urban Outfitters launched a new concept, Space Ninety 8, in the trendy Williamsburg section of Brooklyn.  Located in a renovated warehouse, the five-level space is a destination and likely will create a community of consumer advocates.  The basement houses a rotating series of pop-ups; 1st floor showcases independent designers and vendors as well as a vintage shop; 2nd and 3rd floors feature the men's and women's collections as well as home goods.  In addition an outpost of a trendy Los Angeles restaurant is housed on the 3rd floor while the 4th floor is an outdoor extension of the restaurant and bar.
H&M:  The Swedish fashion-forward retailer plans to open 375 stores world-wide this year including two banners that are new to the US market — COS and & Other Stories.  H&M positions COS as 'exploring the concept of style over fashion' with more timeless pieces of higher quality than those found in a traditional H&M store.    Introduced in early 2013, & Other Stories is a newer banner for H&M that is  also focused on quality but with a more whimsical fashion approach focused on design details and personal expression.
Sources:
Coldwater Creek files for bankruptcy, plans to close
Brookstone Files for Bankruptcy and Plans to Sell Itself
The end of brick-and-mortar?  Think again
Family Dollar expands food assortment
Affiliated Business Group and Yellow Box Announce New Branded Retail Concept
Urban Outfitters set to unveil new concept, Space Ninety 8
H&M to open two new retail formats in U.S.