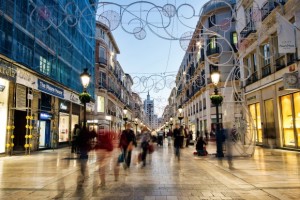 'Big-box retailers are finding money in their old parking lots' began the recent newspaper article.  Was I intrigued to read more?  You bet.  These days we need some good news about our brick-and-mortar retailers.
Where's the money?  It's where retailers 'carve-out' sections of their vast parking lots to sell or lease to restaurants, banks or smaller retailers.  The strategy is an effective solution for all parties – it drives more traffic to the big-box retailer plus it's a good source of revenue for the retailer by delivering value to surplus parking lot space; new selling opportunities are opened up for the new tenants and busy shoppers benefit from the convenience of the shopping destination created by carve-outs.
The article by Maria Halkias of the Dallas Morning News states that 'large store operators are carving out half-acre to 1-acre parcels to sell or lease in the parking lots of their older stores.  In major markets such as Dallas, those pads can fetch $1 million or more from the restaurants, banks and smaller retailers that want in.'
Home Depot is one of the big-box retailers leading the industry.  Halkias further reports that after the recession their real estate department wanted to deliver more value to the organization by making existing stores more productive.  Although still in the early stages of this program, they've identified about 500 locations that could present 'carve-out' opportunities.
How did we get here?  The Interstate Highway Act of the mid-1950's resulted in 50,000+ miles of interstate highway that mobilized the population and enabled the suburbs.  Shopping malls soon followed, in effect becoming the town centers of the suburbs.  Between 1956 and 2005, some 1500 shopping malls were built.  But today, the malls are dying thanks in part to competition from online shopping and an oversaturation of retail selling space – in fact we have 46-square-feet per capita in the US compared with 9-square-feet per capita in the UK (source, Robin Lewis, The Great Retail Demassification).
Further, we have not built any enclosed shopping malls since 2006 and Lewis estimates that some half of all our malls will close in the next 10 years.
In his keynote address at the National Retail Federation's 2014 'Big Show', real estate guru Rick J. Caruso encouraged brick-and-mortar retailers to 'get human again' and step back into the heart of the American social experience as today's shoppers want to engage and feel a sense of community.  He further added that transitioning retail malls to multi-use, livable projects that embrace the soul of retail's past is the way to ensure their future by creating connection and community.
How can retail shopping malls return to relevance?
Change the mix of stores:  Closures of traditional anchor stores like Sears and J.C. Penney present an opportunity to introduce new formats that can create a sense of community, further engage consumers, create a destination and keep the consumer in the mall.  These new formats can include movie theaters, fitness centers, educational facilities, walk-in medical clinics, health and wellness centers, and even supermarkets, some of the original anchors in the malls pre-dating the 1980's.
Leverage technology in-store:  CNBC's Krystina Gustason reports that to enable shoppers to easily conduct product review and price comparisons while in-store, Mr Caruso's Caruso Affiliated offers free Wi-Fi at its retail properties and General Growth Properties will add this service to all of its 100+ malls next month.  Other retailers use apps to engage shoppers — Tangier Outlets' own app sends shoppers location-based offers as they shop; Macy's as well as malls at Las Vegas' Belagio and Venetian resorts have teamed with Aruba Networks Meridian software to offer in-store GPS to help shoppers looking for a particular department or store.
Make it memorable:  Walter Loeb, a contributor to Forbes, suggests scheduled events such as fashion shows, auto shows, technology exhibitions and special holiday events can enhance the draw of the mall.  The mall can sponsor most of the major events whereas some may be cosponsored by fashion and department stores or by brands such as Coke or Pepsi.
The proof is in the mall:  A recent CBS News Sunday Morning segment on the decline of shopping malls featured a once struggling mall in the outskirts of Atlanta that was successfully transformed into the center of its community.  The mall, Plaza Fiesta, was a generic, tired shopping mall when it was purchased in 2005 by Jose Legaspi – a successful retail real estate developer who had discovered that although the area's Hispanic population had almost tripled from 1990 to 2000, there was not a place where families could gather to provide a sense of community.  Plaza Fiesta was created to meet the needs of the Hispanic community.  In addition to its 280 stores, it features virtually everything that may be found in a Mexican village including a doctor's office, dentist, hairdressers, money-wiring services, bus station and a live music area.
There's still a lot more transformation ahead as creative retailers, developers and communities work together to reinvent the shopping mall.  Stay tuned.
Sources:
Shops sprouting on empty parts of Dallas-area big box stores' parking lots
The great retail demassification
Rick J. Caruso opens National Retail Federation's 2014 "Big Show' with Keynote Address:  'the Traditional Mall is Dead; Retail is Timeless'
What is different about tomorrow's mall:  You never have to leave
A new retail concept designed to combat the online shopping trend
A dying breed: the American shopping mall