It's ironic, if you think about it. Retail technology has advanced leaps and bounds over the years, and has brought us so far into the future that in some ways, it has come full-circle and brought us into the past.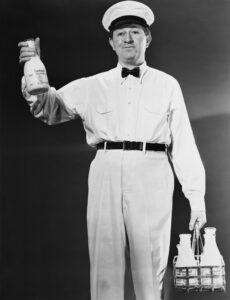 Case in point: the milkman. Only fifty years ago, we started each morning with fresh milk from a glass bottle that had been delivered right to our doorsteps. With the rise of refrigerators in the home and supermarkets in every neighborhood, the once-beloved milkman faded into obsolescence.
Until recently, that is.
The advent of home grocery delivery services like Instacart have given rise to a whole new industry—grocery eCommerce. What all but disappeared from mainstream America over fifty years ago is now back in a big way, and it goes far beyond just milk.
According to an eMarketer report grocery ecommerce, "will grow 18.2% to $19.89 billion in 2019 and will rank as the fastest-growing product category online."
Why Grocery eCommerce is Booming in Popularity:
Time, Money, & Stress Savings
On average, shoppers spend over 60 hours per year—a little over an hour each week—in the grocery store. In a world where everyone is pressed for time, the convenience of online grocery shopping looks more and more tempting.
Beyond that, many families with young children don't have the time to fit in grocery shopping or the means to afford childcare while they grocery shop, which results in lugging the entire family to the store. Many a stressed parent will gladly turn to convenient alternatives.
Additionally, health and budget-conscious shoppers often find it hard to resist impulse-buys when faced with the products, treats and snacks that adorn the checkout line. They are happy to have an option to grocery shop without these temptations staring them down as they check out, saving both calories and coins.
Convenience
The main reason online shopping and ecommerce is so popular is the convenience that they offer, which is even more desirable when it comes to groceries. Culturally, we are all well-positioned for this trend. The increase of dual-working parents, Millennial's and Gen Z's reliance on smartphones, and our busier lives in general are all driving shoppers to lean in to this trend.
Technology
Of 1,118 consumers polled for the 2019 Store of the Future study, 51% believe that if grocery stores don't enter the modern age, more people will seek other ways to buy food. Grocery stores have been sorely behind the curve when it comes to adapting in-store technology to the digital age. Because of this, they can't offer the same conveniences other types of retailers offer.
If brick-and-mortar grocery retailers don't rise to meet the demands, they risk following the same path as the milkman—becoming a thing of the past. Instacart paved the way that brought grocery retail into the modern age, and grocers are just now starting to pick up on it.
Top Grocery eCommerce Players
Instacart
The grocery ecommerce technology company first emerged in 2012. Available in 40 states, plus Washington, D.C., it has become a leading provider of grocery delivery services in the U.S.
Shipt
Popular in the Southeast, Chicago, and parts of Texas, Shipt is a membership-based service (with a 2-week free trial) before users are charged an annual fee of $99.00, or a monthly fee of $14.00.
AmazonFresh
Not included in the standard Amazon Prime membership, this service is also subscription-based, and piggybacks on the popularity of its other subscription services.
Walmart
The retail titan offers two different options—same-day pickup and delivery, and prices are consistent with what is found in-stores. Walmart does not require a membership to use these services.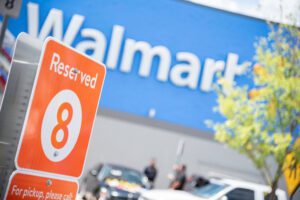 Other smart food retailers like Texas' own H-E-B offer the option of Curbside Pickup. We recently shopped one of their Dallas Central Market locations placing the order from our phone and scheduling a pick-up time later that day (fee was $4.95). When we arrived at the well-signed Curbside Pickup area at the store, we were immediately greeted by an associate who confirmed our order, advised us of any substitutions that were made and provided an ice-cold bottle of water before returning to the store to get our order. Within 10 minutes of arrival, the order was packed up in our car.
The Future of Grocery eCommerce
It's amazing to think about how far we have strayed from the milkman over the past fifty years and now, how technology has spurred the need for his re-emergence—albeit in a fresh, convenient way that reaches much further than the dairy aisle.
It's even more amazing to fathom the future of grocery shopping and where we could possibly go from here. Regardless, Mainstreet is here to help you through every technology phase that may come our way. Mainstreet knows in-store retail technology and we can help you update and refresh your stores to avoid becoming an aging, out-of-date retail operation. Contact our team to get started.