technology invigorates 'brick and mortar' retail stores
Amazon@Purdue, Warby Parker, Rebecca Minkoff, Birchbox
Brick-and-mortar retail got a big boost this week when Amazon announced the opening of Amazon@Purdue — its very first retail store co-branded with Purdue University.
A few days later Warby Parker was named in the top spot on Fast Company's 2015 list of The World's 50 Most Innovative Companies for creating a successful model for online retailers looking to expand into brick-and-mortar retail stores.
Apple, Alibaba, Google and Instagram rounded out the list's top five.
Because consumers shop both in physical retail stores and digitally, the retail experience is no longer split between physical and online.  Instead, the holistic customer experience needs channels to converge and the once artificial divisions to erode.
Benefits of brick and mortar
We think TechCrunch said it best.  1) Physical retail stores let shoppers interact with a range of products to make informed purchasing decisions – a multi-sensory experience that's not possible online.  2) In addition to being showrooms, they're storage and shipping centers that can drive down shipping times and costs for online merchants.  3)  They build strong, lasting brand relationships by enabling online retail to connect and establish a rapport with their shoppers.
Disrupting Main Street Retail with technology
As online extends to Main Street it challenges the traditional retail store model by looking at the entire customer experience, not just within the physical store front.  Technology is a great enabler for that vision.  At this year's NRF Big Show there was a staggering array of technologies that were showcased including virtual reality; smart mirrors that double as touchscreens; iBeacons, image- recognition and geo-fencing to target shoppers with personalized experiences.  Many of these technology innovations are linked to the Internet of Everything (IoE) which, although still in its early stages, is expected to have far-reaching impacts on personalization and advancing the shopper experience.
Amazon@Purdue
Amazon's first-ever staffed customer order pickup and drop-off location is a secure, affordable and convenient way for students to get everything they need for campus life – whether its textbooks, laptops or even mac and cheese.
Purdue students, alumni, faculty and staff simply create an account on purdue.amazon.com, and then place their orders.  When orders arrive, they receive an email or text notification with a link that generates a barcode.  They then scan that barcode when they arrive at Amazon@Purdue and can pick up their order at one of the self-service lockers or go to the pickup desk where they'll be helped by an associate.
Plans are in the works for a second location at Purdue as well as other universities.  To-date, the University of California, Davis and the University of Massachusetts Amherst are being considered.  If it continues to expand, it could make a major impact on Barnes & Noble college bookstore business. 
Rebecca Minkoff
eBay has recently partnered with Rebecca Minkoff to extend the reach of online technologies into the physical world with the transformation of Minkoff's retail store in New York's SoHo neighborhood.
NRF 2015 showcased the immersive shopping experience which features a 'connected wall' (smart touchscreen mirror) that lets shoppers explore a 'look book', choose a complementary beverage and have a dressing room stocked with their preferred items.  Each piece in the shop is recognized by the dressing rooms smart mirrors.  As shoppers try on items, they can see accessory options or complementary styles.  Stylists can be summoned at the press of a button to bring items and offer advice.
See how Rebecca Minkoff uses the latest technology to create an exceptional experience that merges the best of in-store with the best of online shopping.
Warby Parker
Eyewear retailer Warby Parker is recognized by Fast Company as the most innovative company for building the first great made-on-the-Internet brand, for its vertical integration, 'buy-one-give-one' business model but most importantly, its founders' fanatical focus on brand and execution.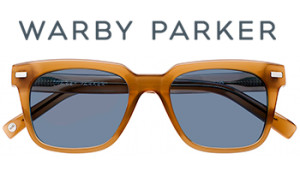 Warby Parker began opening retail stores in 2013.  At these 'classrooms' customers can try on glasses, receive an eye exam and take pictures of themselves in a photo booth to compare styles.
With about a dozen sites to-date, the NRF reports these store fronts have helped the brand thrive and generate average sales of $3,000 a square foot annually – sales/square foot numbers that rival those of Tiffany & Co.
Birchbox
Online beauty product merchant Birchbox opened its flagship store in the Soho area of New York City in mid-2014.  Whereas most other brick and mortar retailers —  including Sephora, Ulta and major department stores —  arrange cosmetics by brand, Birchbox merchandises product in its store by category (i.e. 'cheek', 'lip', 'skincare') to make it easier for shoppers to quickly see the full range of options available – similar to how they would shop online.  It also sprinkles lifestyle products (i.e. iPhone cases, pocket squares, candles) throughout to make the store more inviting and approachable even for those less experienced shoppers.
Birchbox staffs its store with a team of friendly associates eager to help shoppers.  For those shoppers who prefer a more self-service approach, touchscreens are located throughout the store.  By incorporating the logic Birchbox uses online to personalize monthly sample boxes (i.e. select your style, hair type, skin hang-up, etc.) the touchscreens can display personalized product recommendations, customer reviews, expert tips and video demos.  Technology also extends to the hair salon where clients are given an iPad during their service so they can scan through a menu of trendy styles.
Bricks and Clicks
One thing is for sure.  As online retail continues to extend to Main Street retail, shoppers will continue to benefit from personalization, convenience and a richer shopping experience wherever and whenever they choose to shop.
Thoughts or comments?  We'd love to hear from you.  Email us at info@mainstreetinc.net
Sources:
Amazon Launches First-Ever Staffed Campus Pickup and Drop-Off Location, Free One-Day Pickup at Purdue University
Birchbox's First Brick-and-Mortar Store Actually Makes Sense
5 things retail 2.0 can teach brick and mortar
Rebecca Minkoff SoHo store combines fashion and technology