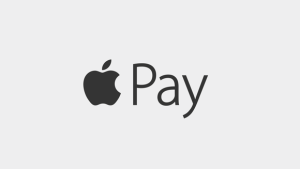 Apple Pay will significantly transform mobile payments and retail POS.  This post reviews how Apple Pay works, its security features, the partnerships Apple has forged with banks/retailers, prediction for its success as well as an alternate mobile wallet that is being developed directly by a group of major retailers.        
About Apple Pay
Announced September 9, 2014 Apple Pay is a mobile payment option that is compatible with iPhone 6, iPhone 6+ and Apple Watch and will be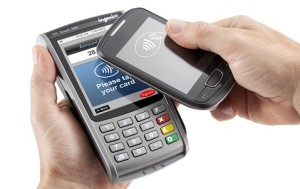 available starting October 2014 as a free update on Apple's iOS8 operating system.  Droid fans can expect a similar digital payment service in the near future.      
In the announcement, Apple CEO Tim Cook said that "we're gonna start by focusing on payments.  Payments is a huge business.  Every day between credit and debit, we spend 12 billion dollars.  That's over 4 trillion dollars a year and that's just in the United States…..200 million transactions a day.
How Apple Pay works 
The platform uses NFC communication which allows the user to transfer small amounts of data between two devices held closely to one another.  After unlocking the cellphone via fingerprint, a tap of the device on a payment terminal identifies the user's account and enables them to pay quickly. 
Users will simply scan and add a card to their iPhone.  To alleviate security concerns, Apple's Find My iPhone app will be able to suspend all payments from the device if it is lost.  Each new iPhone or Apple Watch will be equipped with an NFC antenna, secure chip to store payment information and fingerprint scanner.  It's expected that consumers will be more likely to trust something in their phone than an unknown device like a payment terminal because people have a personal relationship with their phones. 
Tokenization
Apple Pay uses the 'tokenization' security feature which eliminates transmitting account numbers or other critical personal details.  Instead, the technology uses complex, unique, codes that are easily transmittable over the air and between devices.  Because the codes are unique and only used once, they are of no use to fraudsters even if they are intercepted.    
Apple has worked with a handful of merchants such as Bloomingdale's, McDonalds and Whole Foods on deep integrations of Apple Pay.  In order to support it, stores will need to upgrade their POS systems to function with the phones' sensors that can talk to the NFC-enabled phones and accept the tokens.  To-date, both Apple and Whole Foods have upgraded their store systems; McDonalds' upgrades are in progress. 
Secure payments with Apple Pay
Some of the reasons why Apple Pay is more secure than traditional magnetic stripe credit cards. 
You don't need to carry the card with you.  Instead it's registered on the app and the phone receives a digital token or encrypted digital representation of the account number.
The account number is not stored on your phone so even Apple or the merchant won't have the number. 
To pay for something, you need to unlock the token on the phone with your fingerprint
Each transaction will be authorized with a unique authentic code so even if the payment data was stolen it couldn't be used for another transaction so it's not useful to thieves
A thief can't unlock the payment capability if the phone is lost because it can only be unlocked with your fingerprint.  Plus you could disable the token and request a new one for your next phone.
Even if there were a retail security breach, the hackers wouldn't have your account number or any information about you. 
Another key is NFC which is the same technology used for ID badges.  While some may be concerned that a thief could steal the unique code for the transaction, the thief would have to buy items that add up to exactly the same amount of money at the same store before the authentication code expires within a minute. 
Extending Apple Pay's reach
To-date, 6 major banks – including Bank of America, JP Morgan Chase, U.S. Bank, Wells Fargo — have partnered with Apple to allow their cards to be used with Apple Pay starting early October 2014. 
Retailers like Whole Foods, McDonalds, Bloomingdale's, Disney Store, Duane Reade, Macy's, Sephora, Staples, Subway and Walgreens have installed, or plan to install, payment terminals that enable them to accept Apple Pay. 
Other companies, such as Target, are incorporating Apple Pay into their mobile app.
A recent posting from Apple reports that by supporting Apple Pay, major banks like JPMorgan Chase run the risk of losing potential revenue to the tech giant as it shoulders into the finance sector. But the partnerships were struck anyway, thanks to Apple's vast market reach and new threats to traditional credit card networks.  Part of the concern stems from new out-of-network payment initiatives created by consortiums made up of powerful retailers, like the MCX (see below), which counts Walmart and Best Buy as members. Not coincidentally, the two big-box stores announced they will not be accepting Apple Pay. Apple began working closely with banks and credit card network partners in January 2013. Apple Pay will launch with support from major companies Visa, MasterCard and American Express.  Their partner banks are offering Apple transaction fees lower than what is normally charged for credit card processing.  Banks are supposedly hoping to make up the difference by adding transaction volume driven by Apple Pay adoption.
Will Apple Pay succeed?
By combining NFC and the account information that Apple already has with iTunes, the ability to store other credit, debit, gift and loyalty cards with Passbook (a secure element with their TouchID thumb print imaging), Apple Pay delivers a seamless and secure wallet solution for retail environments and mobile check-out.  The expected outcomes of Apple's introduction into the payments space are rapid increase in the number of applications relying on NFC and increased consumer acceptance of mobile payments.  It's been long predicted that Apple would be the catalyst for mobile payments.  They distribute the most popular mobile devices in the world, have a loyal customer base that integrate different aspects of their lives to their hardware and software and an avid developer community that develops applications to exploit their devices' functionality.  (Source:  One Step Retail Blog)
But be on the lookout for……
Merchant Customer Exchange (MCX www.mcx.com) is a mobile wallet being developed by a group of major retailers who want greater control of the exchange and want to keep more of the customer data, rather than ceding to technology companies.  Participating retailers include 7-Eleven, Bed Bath & Beyond, Circle K, CVS, Giant Eagle, GAP, Kohl's, Publix, Rite Aid and Walmart. 
CurrentC is MCX's recently launched mobile app.  Stacked against Apple Pay, industry experts speculate whether we may experience another Beta VHS scenario. 
NFC's impact on advertising
A recent article in Essential Retail reports the launch of Apple's iPhone 6 and smart watch can have a positive impact on the outdoor advertising sector.  With both products offering near-field communication (NFC) capability there is set to be a greater number of consumers who are able to interact with advertising through their personal tech devices.  This could prompt large brands to invest in more interactive, NFC-enabled campaigns, potentially resulting in more opportunities for consumers to pay for products via outdoor advertising boards.
About other mobile wallets
Google Wallet also uses NFC but does not use tokenization.  Neither Google Wallet or other mobile wallets such as PayPal and Softcard are widely accepted by consumers at this time.
What about Amazon?
Amazon launched its Fire Phone in July 2014.  According to a recent online discussion by Retail Wire, it does not appear to have lived up to expectations as Amazon cut the two-year contract price with AT&T to 99 cents down from the original $199 price.  One of the reasons why Fire Phone doesn't seem to be catching on is Amazon's exclusivity with AT&T. 
Last month Amazon announced Local Register – its new point-of-sale system priced below the competition.  The reader is priced at $10 and participating merchants who sign up by October 31, 2014 will be charged 1.75% on all swipes until January 1, 2016.  Amazon's standard swipe rate is 2.5% compared to the 2.75% charged by PayPal and Square.  For Amazon the benefits include getting a new source of valuable data it can use to sell more products to consumers.
For retailers, it's likely that Local Register will appeal only to the small merchants. 
Good advice
"Do it once, do it right, and 'future proof' yourself as much as possible" suggests Oliver Manahan, MasterCard's vice president of advanced payments about retailers readiness for EMV and NFC.  
At Mainstreet, we've successfully rolled out new payment terminals for several national retailers.  Contact us today to learn how we can seamlessly upgrade your payment terminals to ready your business for EMV and NFC to provide your customers with a secure payment environment. 
Follow us for further updates on the rapidly-changing US payments industry and the impact on retail technologies.    
Comments or questions, please email me at dsimurda@mainstreetinc.net
Follow us on twitter @POSatMainstreet
Sources
http://www.cleveland.com/business/index.ssf/2014/09/apple_pay_will_make_shopping_s.html
http://www.forbes.com/sites/retailwire/2014/08/15/will-amazon-be-using-merchants-who-use-amazon-local-register/
http://www.retailwire.com/discussion/17774/amazon-drops-price-as-smartphone-fails-to-set-the-world-on-fire
http://www.essentialretail.com/news/article/5416b795eb717-apples-nfc-move-set-to-boost-outdoor-advertising-sector
http://appleinsider.com/articles/14/09/11/apple-pay-nets-favorable-transaction-fees-from-banks-denied-support-from-walmart-and-best-buy
http://www.theguardian.com/technology/2014/sep/09/apple-iphone-6-nfc-payment-system
http://www.businessweek.com/articles/2014-09-09/new-iphones-will-get-us-halfway-to-mobile-payments
http://www.cnbc.com/id/102013363
http://retail-services.blogspot.com/